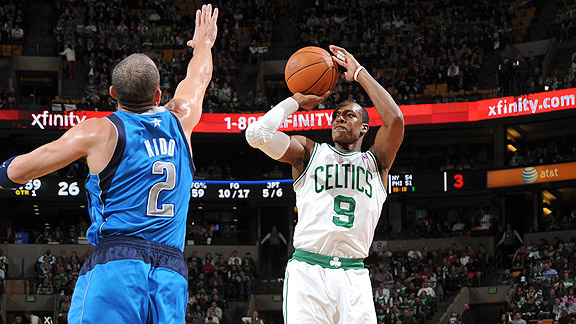 Brian Babineau/NBAE/Getty Images
Rajon Rondo takes a jumper over Jason Kidd Saturday night.BOSTON -- The Celtics were clinging to a three-point lead over the Dallas Mavericks with just over a minute to play Friday when Rajon Rondo pulled up for a 17-foot jump shot from the left side that had potential to seal a Boston victory.
Instead, it found iron and the Celtics faltered down the stretch, falling 101-97.
That Rondo missed the shot might not be a surprise to some, since it's been well documented that free throw and jump shooting have been the All-Star point guard's biggest weaknesses ever since he entered the NBA. But those who weren't shocked by the miss also shouldn't be shocked that he attempted the shot in the first place, since Rondo is indeed taking -- and making -- more mid-range jump shots this season than he ever has in his entire career.



According to HoopData, entering Friday's tilt with the Mavericks, Rondo was averaging a career-high 2.9 field goal attempts from 16 to 23 feet per game -- an improvement over his previous career-high of 2.7 attempts, which he averaged during the 2007-2008 campaign, and up from 2.3 last season. In conjunction with the increase in attempts is an increase in percentage of shots made, as Rondo's also shooting a career-high 45 percent from the same distance. That figure also serves as an improvement over the 43 percent he knocked down during the 2007-2008 championship season and up from 33 percent last season.
To put Rondo's 45 percent shooting in perspective, two of his All-Star teammates -- Paul Pierce and Ray Allen -- are shooting 41 percent and 46 percent from 16 to 23 feet this season, respectively, and their number of attempts from that distance is practically even to that of Rondo.
The attempts have always been there for Rondo, as opposing teams routinely defend him in a manner that encourages him to shoot jump shots. Whether it's having Rondo's defender take several steps back from him, or scamper under a screen, as opposed to chasing him over it, the message is clear: Rondo taking a jump shot is better than Rondo attacking the rim. Such strategies have been built upon Rondo's jump shooting numbers in seasons past, which haven't exactly been stellar. It didn't take long for him to earn the reputation as a stellar point guard who simply couldn't shoot the basketball along the perimeter.
The Mavericks employed such a strategy throughout Friday's game, occasionally having Rondo's man, Jose Juan Barea, cheat over and double-team the likes of Kevin Garnett and Paul Pierce when they held the basketball. The rotation was designed to leave Rondo open, and the strategy paid off, as, with 7:53 left in the first quarter, with Barea aiding in the defense of Garnett, an open Rondo received the ball and missed his first mid-range jump shot attempt from the right elbow.
Rondo was not dissuaded, though, and the fact that he elected to take a 17-footer in the closing minutes of such a close game against Dallas suggests he has an increased sense of confidence in his ability to shoot the ball.
"It was a shot that he makes," said Allen. "I've seen him make it 1,000 times. It just didn't go in when we needed it to."
Had that shot presented itself a season or two ago, Rondo might not have taken it, and that has served as the biggest difference in the eyes of Celtics head coach Doc Rivers.
"I just think he's starting to take the ones that have been there for the last two years," Rivers said prior to Friday's game. "I don't think it's changed much. I think he's more comfortable taking them, and I think he's taking the right ones, too."
Rondo hasn't been quite as accurate from other spots on the floor, as he's shooting a career-low 26.7 percent on shots taken from 10 to 15 feet, although, to be fair, he's averaging a mere 0.4 attempts per game from that range this season. In addition, Rondo's percentage from 3-point nation stands at 30.8 percent, which is slight off his career-high of 31.3 percent -- a mark he set back in 2009. Rivers maintained that he's much more interested in Rondo's mid-range shooting, while downplaying the importance of his point guard chucking three-pointers at the basket.
"The threes, you can throw out the window, as far as I'm concerned," Rivers said. "But he's looking, he's taking the elbow jump shots, and when guys are going under screens now he's pulling up and taking that shot. For us to be a great team that's a very important shot. Otherwise, we get away with it in the [regular season] and then in the playoffs it becomes an issue."
Fortunately, it's no mystery that opposing teams are going to try and exploit Rondo's jump shooting as a potential weakness, both for him individually and the Celtics as a team.
"Teams are going to give him that shot," said Allen. "That's a shot he knows he can take and make."
Rondo's certainly done more of both so far this season.
Greg Payne is a student intern for ESPNBoston.com