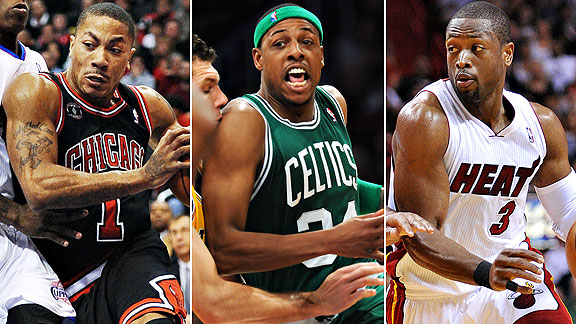 US Presswire
Despite some stumbles, the Celtics are still the East's top dog in the latest ESPN power rankings.Even before Monday's facepalm in Charlotte, the Boston Celtics had slipped to No. 3 in ESPN.com's NBA power rankings thanks to Friday's loss to the Mavericks.
Boston now resides behind the Texas two-step of San Antonio and Dallas, but remains the top dog in the Eastern Conference, with the Heat and Bulls tucked behind them this week. Writes curator Marc Stein: "Doubt the Celts would rather see the Lakers in the Finals than a Texas team, but check out the teams with the best records in Boston since the C's moved in '95-96: San Antonio (12-3), Houston (10-5) and Dallas (10-5)."
The Celtics check in at No. 5 in the latest John Hollinger computerized power rankings, sitting behind the Spurs, Heat, Lakers, and Magic (despite boasting two wins apiece over those Florida squads). To be fair, Boston was up at No. 4 in front of Orlando before falling to the Bobcats on Monday.
Over at NBA.com's power rankings, Boston hung tight at No. 2 behind the Spurs (Dallas way back at No. 6). Writes curator John Schuhmann, "Marquis Daniels' injury against the Magic on Sunday was tough to watch, and it was another reminder that the Celtics need Delonte West back. But they probably won't get him until after the All-Star break, which means their second unit will be shorthanded in big games against the Lakers and Heat this week."