KG's blog: On Marquis, Semih & Super Bowl
February, 9, 2011
2/09/11
11:35
AM ET
Celtics forward
Kevin Garnett
's
latest ANTA blog
includes his thoughts on injured teammates
Marquis Daniels
and
Semih Erden
, as well as the Super Bowl and All-Star weekend.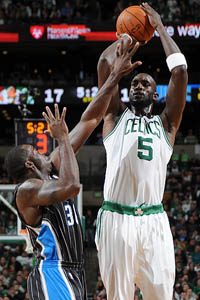 Brian Babineau/NBAE/GettyKG's latest blog hits on many topics, including Monday's loss in Charlotte.
We had a good win against Orlando on Sunday afternoon, but watching Marquis get hurt was tough. He lost feeling in his limbs and laid there motionless! Felt a ton of emotions and wanted to help him, but couldn't. He's feeling better now, but it is serious. Thoughts go out to my man! Semih has also had a groin pull since training camp, so he's taking some time off as well. Our numbers are low, but we'll get through it.

After the win, we headed to Charlotte and caught the last 5 minutes of the superbowl (NFL football). Was a good game and Aaron Rogers (QB Packers) played extremely well. Congrats to them.

Charlotte was not pretty. We seemed to have been in and out of the game all night. It's tough to lose to a team that you know you should beat. We gotta figure it out and get these back to backs done. Coach let us know that most of our losses are on the back to backs! I believe in our guys and know we'll get it together.

Lakers are coming up on Thursday, then the Heat on Sunday. Should be tough games.

Then All Star game. Didn't know if you all know that I'll be going. Feel really blessed that the coaches voted me in. Going to LA with the coaches, Rondo, Ray and Paul. I remember writing about this before, but excited to go with the guys.

Reach Higher. KG
PODCASTS
Adam Schefter, NFL
Play Podcast ESPN NFL Insider Adam Schefter weighs in on the Panthers' WR situation, Julian Edelman's future with the Patriots, Vince Wilfork's decision to ask for his release and more.
Spanning the Globe: 3/13
Play Podcast "Spanning the Globe" features ESPN Boston's Mike Reiss, Yahoo! Sports' Eric Edholm and ESPN LA 710's Mark Willard.
John Farrell, Red Sox
Play Podcast Red Sox manager John Farrell talks about whether he expected his team to make such a turnaround in one season, his relationship with his players, fans' expectations for the squad and more.