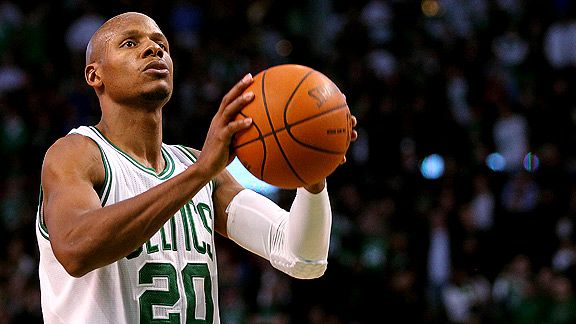 Mark L. Baer/US Presswire
Ray Allen is on the cusp of setting a new NBA record for trifectas.The Celtics and Lakers meet again for the second time in 11 days on Thursday, but it might be Ray Allen's pursuit of an NBA 3-point milestone that provides the most entertainment in this rivalry rematch.
--MacMULLAN: PREPARATION IS THE KEY TO ALLEN'S SUCCESS--
It's not that Ray Allen won't leave anything to chance; it's more that he simply can't. Allen did not hope he would break Reggie Miller's all-time 3-point shot record; he meticulously and laboriously prepared for it years in advance of the actual event, which should occur when the Boston Celtics play the Los Angeles Lakers on Thursday in TD Garden with Miller in attendance as a TNT commentator. There were the obvious tasks of shooting thousands of shots from each spot behind the arc so that any attempt from any angle would feel familiar, rote, routine. The more subtle groundwork centered on a regimented diet, a controlled sleeping pattern, an increased emphasis on his rigid conditioning habits to strengthen his core and challenge his body.
--FORSBERG: WITH INJURIES, REMATCH LACKS HYPE FOR C'S--
If not for the oversized media contingent that descended upon Boston's practice facility Wednesday, the Celtics might have been able to forget -- even if just temporarily -- that the Lakers were in town. Forgive Boston if it's simply not in the mood to pen the latest chapter in the greatest rivalry in basketball. Eleven days after an epic meeting in Los Angeles -- the first encounter since Game 7 of the 2010 NBA Finals -- the Celtics have encountered so much turbulence that a matchup against a rival with revenge on its mind is truly the last thing Boston needs right now. Ravaged by injuries, struggling for consistency, and clinging to a suddenly tenuous half-game lead atop the Eastern Conference, Boston would have been just fine if it was, say, eight-win Cleveland visiting the Garden on Thursday.
--McMENAMIN: AFTER TRADE RUMORS, BIG GAME FOR LAKERS--
Oh, right, there's a game. The Los Angeles Lakers are in town to play the Boston Celtics but you wouldn't know it from all the attention being paid to some guy who may or may not want to keep playing in Denver. Despite Carmelo Anthony stealing some of the juice from Thursday's NBA Finals rematch, it remains a big game for this Lakers team that has played so many big games in the last three postseasons that a regular season date sometimes fails to register.
--PRACTICE NOTES: PIERCE (ILL) SITS OUT, C'S RUN WITH 10--
ust when it seemed like the Celtics' roster couldn't possibly be thinned any further, captain Paul Pierce sat out Wednesday's session due to illness and, while coach Doc Rivers expects him to play Thursday night against the Los Angeles Lakers, it was the latest setback for a Boston squad suddenly desperate for healthy bodies. The Celtics operated with a 10-man session as Pierce, Shaquille O'Neal (inflamed Achilles), Jermaine O'Neal (left knee surgery), Marquis Daniels (bruised spinal cord), and Semih Erden (right adductor strain) were all absent. All but Pierce have been ruled out for Thursday's game.
--More headlines from Wednesday's coverage:
* West and the wrist watch: Delonte's first full practice
* Conspi-Ray-cy theory: Did Allen wait to get record Thursday vs. LA?
* Flagrant tracker: Pierce's foul on Wallace upgraded to flagrant 1
* Allen and Ainge add unwavering support for Garnett
* KG's Blog: On Marquis, Super Bowl, All-Stars, and Charlotte loss