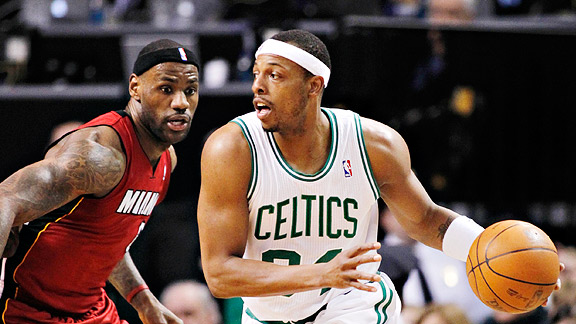 Greg M. Cooper/US Presswire
Paul Pierce didn't have a great shooting night, but Boston found a way to win.BOSTON -- A collection of postgame news and notes after the Boston Celtics defeated the Miami Heat 85-82 Sunday afternoon at the TD Garden:


HOW THE GAME WAS WON
Rajon Rondo put on a clinic in the third quarter, doing much of the damage that led to a triple-double as he posted 11 points, 10 rebounds and 10 assists. The Celtics benefited from balanced offensive output with Kevin Garnett scoring a team-high 19 points, while Kendrick Perkins kicked in 15 points and four starters reached double figures. Chris Bosh scored a game-high 24 points on 8-of-11 shooting for Miami, while LeBron James finished with 22 points, missing the front end of a pair of free throws late in the game with a chance to tie it.
TURNING POINT
Down four coming out of halftime, the Celtics opened the second half on a 20-3 run to take a 13-point lead. Rondo put on a dizzying display throughout the third quarter, making all four shots he took (negating the fact that he missed four of the five free throws he attempted) in posting 9 points, 4 rebounds and 3 assists in the frame. His layup with 6:45 to go put Boston on top 59-46.
STAT OF THE GAME
Paul Pierce finished 0-for-10 from the floor, the first game this season he has not registered a field goal, and chipped in just 1 point over 39 minutes. Pierce actually had a strong night beyond the shooting woes, expending much of his energy defensively on James. Pierce added five rebounds and three assists.
UNSUNG HERO
One game after getting abused by Kobe Bryant, Von Wafer bounced back strong against James and the Heat. Wafer connected on 4-of-5 shots, including a pair of trifectas, for 10 points and a bench-best plus-8 in plus/minus category.
WHAT IT MEANS
Few gave the depleted Celtics a shot in this one, especially missing much of their depth up front, the one perceived advantage they had against the Heat. But even as Pierce struggled from the floor, the Celtics found a way to win, riding Rondo and Perkins in key stretches. After hitting some bumps in this five-game stretch (Mavericks, Bobcats and Lakers), the Celtics still won two key Sunday showdowns with Eastern Conference rivals (Orlando last week) and should enter the All-Star break with renewed confidence if they take care of business Wednesday against New Jersey.