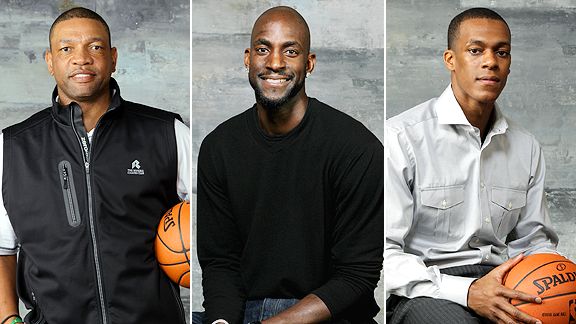 Getty Images
Doc Rivers, Kevin Garnett, and Rajon Rondo pose for All-Star snapshots.LOS ANGELES -- As part of their media obligations on Friday, Celtics players and coach Doc Rivers posed for yearbook-like snapshots. Things get a little more interesting today as the All-Stars will don their uniforms for the first time for another photo session before their lone practice of the weekend. Here's a rundown on the All-Star schedule for Saturday (all times EST).
1:45-3 p.m. -- Eastern and Western Conference joint practice
3-3:30 p.m. -- Media availability with All-Stars
5 p.m. -- NBA Development League All-Star game
7 p.m. -- David Stern's NBA state of the union address
8 p.m. -- NBA All-Star Saturday Night (including 3-point and slam dunk contests)
After Saturday's practice, Celtics captain Paul Pierce and some of his teammates will travel to his old stomping grounds at Inglewood High School for an All-Star Health & Fitness Festival. Writing on his blog at Boston.com, Pierce noted, "With the All Star break being in my hometown of LA and all, I thought this would be a special chance for me to get back to my roots and show appreciation for where I grew up and to all the people that contributed so much to my success."