Robinson reflects on dunk contest
February, 19, 2011
2/19/11
12:07
PM ET
By
Louise K. Cornetta
| ESPNBoston.com
ESPNBoston.com discussed tonight's NBA Slam Dunk Contest with three-time champion
Nate Robinson
of the Celtics. Listen up,
Blake Griffin
...
Q. What does it take to win the dunk contest as you did three times?
[+] Enlarge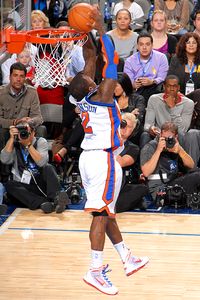 Andrew D. Bernstein/NBAE/Getty ImagesNate Robinson has won the dunk contest three times in his career, but he's skipping this year's event.
Robinson:
Confidence. You need to be creative but I mean, how creative can you be now-a-days? So I say confidence.
Is dunking hard or easy to do?
Robinson:
Hard. Some guys can palm a ball, but I can't. Because I can't palm a ball it's harder for me to dunk than most guys. Also most guys are taller and I'm shorter.

Q. What dunk you are most proud of?
Robinson:
For me, the off the glass reverse 180 I did in Vegas, I think. I know I wore a white jersey, so I think it was in Vegas. I tried it a couple times before the dunk contest and I could do it. I knew I couldn't jump the regular 360 way, so I did everything backwards instead. So everything for me was like a mirror.
Q. What advice would you give Blake Griffin?
Robinson:
Have fun, that's it. He's a showman already. He already has the flair and the creativity. He's a people person, I can already tell just the way he presents himself. He's going to have a lot of fun. So just have fun, that's all and make all your dunks.
Q. What impresses you about Griffin's dunks?
Robinson:
How hard he goes. He reminds me of
Shawn Kemp
-- just a better Shawn Kemp, just his flair, how he dunks. If you go back and watch Shawn Kemp, go to YouTube and watch Shawn Kemp then go to Blake Griffin, you'll see the similarities.
Q. Can you dunk better than him?
Robinson:
What do you mean dunk better? He has more dunks. I can do a lot of dunks but I don't know if I can do them as hard as he can. I think I can probably do just about any dunk he can do probably, it depends.
Q. Why don't you want to be in the dunk contest this year?
Robinson:
Too many times I've done it. It's time for a new king.
Q. What you would recommend to make the slam dunk contest better?
Robinson:
Bring back the music they used to play back in the day. I'm just saying, before guys used to go dunk, they used to pick whatever song they wanted to dunk to. They should bring that back. I'd pick probably "No Hands" by Waka Flocka and Roscoe Dash.
PODCASTS
Adam Schefter, NFL
Play Podcast ESPN NFL Insider Adam Schefter weighs in on the Panthers' WR situation, Julian Edelman's future with the Patriots, Vince Wilfork's decision to ask for his release and more.
Spanning the Globe: 3/13
Play Podcast "Spanning the Globe" features ESPN Boston's Mike Reiss, Yahoo! Sports' Eric Edholm and ESPN LA 710's Mark Willard.
John Farrell, Red Sox
Play Podcast Red Sox manager John Farrell talks about whether he expected his team to make such a turnaround in one season, his relationship with his players, fans' expectations for the squad and more.