LOS ANGELES -- In recent years, the NBA has added a wrinkle to All-Star weekend that includes trying to establish a new mark in the Guinness Book of World Records. So, hours before their main-event competition in the 3-point shootout, Paul Pierce and Ray Allen joined forces Saturday to etch their name in Guinness ... where it stayed for roughly 90 seconds.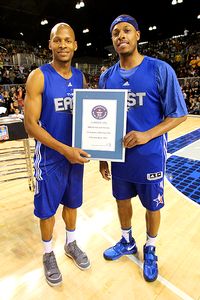 Joe Murphy/NBAE/Getty
Ray Allen and Paul Pierce were in the world record books ... for a good 90 seconds.Instead of attempting to break an actual record, the NBA and Guinness devised a setup for Allen and Pierce to alternate 3-point makes over a minute span while establishing a new tandem 3-point mark. Neither player was particularly sharp and the duo limped to 13 makes, but still earned the framed certificate for their troubles.
And soon after they handed it right back as Dallas' Dirk Nowitzki and Oklahoma City's Kevin Durant were selected to represent the West and connected on 15 triples in a minute.
The rules were that each player couldn't shoot until the other player completed a make. Players were also rooted to one position on the court. But let's hope Pierce and Allen were simply shaking the rust before Saturday's primetime battle. Durant, another of the contestants in Saturday's 3-point shootout, looked strong in his minute preview.
Last year in Dallas, the NBA tried to set a record by having soon-to-be teammates LeBron James and Dwyane Wade attempt to hit five halfcourt shots in a minute span (it failed). Fortunately, Orlando's Dwight Howard saved the day by making a 51-foot shot from the seat of his pants to establish at least one mark for the day.