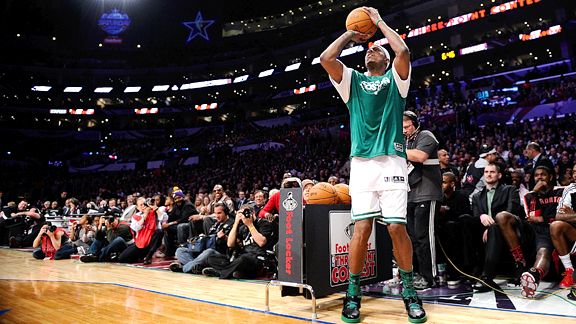 Kevork Djansezian/Getty Images
Paul Pierce couldn't defend his 3-point shootout title Saturday night at the Staples Center.LOS ANGELES -- Despite a stirring first-round surge to avoid an embarrassing early exit, Boston Celtics captain Paul Pierce settled for a second-place finish at the 3-point shootout, his duel with Ray Allen reduced to a subplot after Miami's James Jones surged to the win on All-Star Saturday Night:
--PIERCE ALL SMILES ... EVEN WITHOUT 3-POINT TROPHY--
As defending champ, Paul Pierce shot last in the first round and limped around the arc, entering the final rack with only eight makes. He ultimately needed his final three shots to advance and, pausing ever so briefly, he calmly drilled all three, beating the buzzer with a money-ball trifecta that launched him ahead of Dorell Wright (11) as Kevin Garnett spilled off the sideline spewing obscenities as if Pierce made a game-winning jumper. "I know KG's on the sideline, placing bets or something on who he thinks is gonna win," joked Pierce. "But it's fun. This is what All-Star weekend is about. "I knew how much time was on the clock. I think I rushed the beginning. That's what killed me. The first two racks every round killed me because I rushed them and then I took my time on the last three or four and really settled in. If I didn't rush, I probably would have put up a 25 or something [in the final round]."
* Check out post-competition video from the Celtics: Paul Pierce | Ray Allen
--PIERCE GOES BACK TO SCHOOL IN INGLEWOOD--
Paul Pierce returned to his high school in Inglewood, Calif. on Saturday, visiting with the kids while imploring his health initiative through his foundation, all while in L.A. for the All-Star game. Check out the video below for more.