KG's blog: 'Now we focus on Banner 18'
February, 22, 2011
2/22/11
11:15
AM ET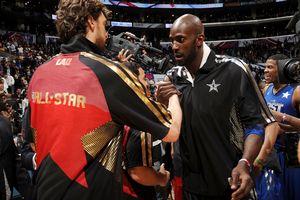 Andrew D. Bernstein/NBAE/Getty ImagesEven LA's Pau Gasol is cool on All-Star weekend.
On his
ANTA blog
,
Boston Celtics
forward
Kevin Garnett
wrote a pair of entries recapping All-Star weekend. Maybe the most noteworthy portion being his thoughts on playing less than eight minutes in Sunday's game that saw West top East, 148-143.
Didn't want to play that much so I could rest a little, but got up and down. We played with our 4 and Bosh first. It's funny when you run a play and it doesn't go all the way through because of the 5th person. Played with Amare and some of the other cats.

We didn't get the win, but what you gonna do. NOW WE FOCUS on BANNER #18.
Here are the full entries. Hop to the
ANTA site
to see pictures that Garnett included in his entries.
#14 for me, which says to me, gotta keep working. Not many men can say they laced them up for 14 All Stars. Hard work, little luck and having the drive. I'm happy to be a part of this day and to be with my homies. P2, Ray and young fella (Rondo). The Coaches are here, BDoo, Lynchie and Twiss. Feel like we doing something.

Not often to I see the other players in a situation like this, so giving them a dap or catching up. Cool stuff.

The game prep wasn't the same, but as Doc said, "Anytime there is a score, then someone has to win and someone has to lose. Let's make it them"

Didn't want to play that much so I could rest a little, but got up and down. We played with our 4 and Bosh first. It's funny when you run a play and it doesn't go all the way through because of the 5th person. Played with Amare and some of the other cats.

We didn't get the win, but what you gonna do. NOW WE FOCUS on BANNER #18.

I sent some pics from the weekend, so enjoy.

***

The dunk contest was unreal. Those young fellas did some different things. Surge with the dunk and grabbed the monkey with his teeth, McGee with the old "L. Nance" rock the cradle, blake with the 360 pump with power and Derozen with the reverse 360 flush. Cool stuff.

My boys were worried about themselves and forgot to beat JJones in the 3pt contest. Both Ray and P2 made it to the finals. Sitting with Dwade, Rondo, Shaq. Things were cool. I got my Anta swag on and feel like I was looking good.

KG