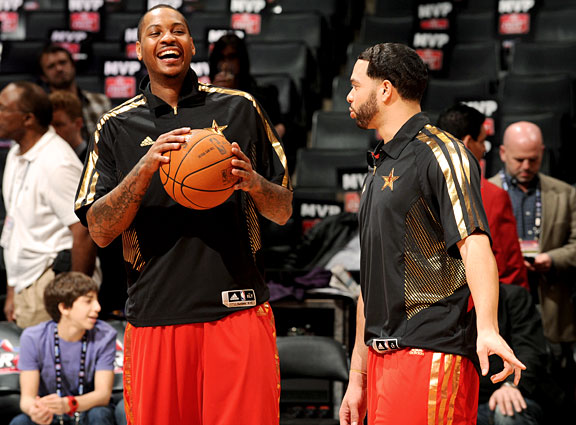 Andrew D. Bernstein/NBAE/Getty Images
Head east, young men: Anthony and Williams are bound for the Atlantic Division.If nothing else, the star power in the Atlantic Division has jumped up a notch this week. After losing out to the New York Nicks in the Carmelo Anthony Sweepstakes, the New Jersey Nets appeared to counter Wednesday by hauling in All-Star point guard Deron Williams from the Utah Jazz in what might be an even more impressive haul.
The number of Rajon Rondo vs. Williams battles just doubled and adds another horse to the "Who is the best point guard in the East?" race (And just imagine if Chris Paul ever finds his way to New York to join Anthony and Amare Stoudemire).
As we noted in the aftermath of the Anthony trade, the Celtics probably don't have much to fret this season, but the road to the postseason is getting decidedly more difficult to navigate in future seasons. No longer is the Atlantic Division such a breezy stroll, and the lower half of the Eastern Conference is improving, which will make the early rounds of the playoffs no cupcake, either.
Before the first meeting with the surging Knicks this season, Celtics coach Doc Rivers was asked if he liked the idea of a little in-division competition.
But asked if he liked having a little divisional competition, Rivers playfully squashed that talk as well.
"No, I kinda liked it the other way," joked Rivers. "Let's hope it goes back that way."
Sorry, Coach, it looks like it's only going to get tougher.