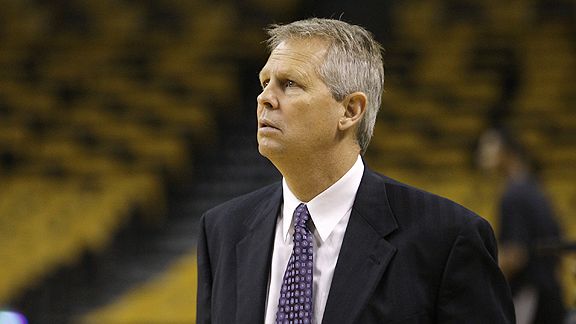 AP Photo/Charles Krupa
Danny Ainge has some tough decisions to make while shaping Boston's roster for the second half.Celtics president of basketball operations Danny Ainge finds himself with a handful of options at the trade deadline, none of which is particularly appealing.
--FORSBERG: AT TRADE DEADLINE, C'S IN A BIND--
The Celtics need additional bodies. Their roster is maxed out at 15 players. Something has to give. But the question as the clock ticks toward Thursday's 3 p.m. NBA trade deadline is what is Boston willing to give up? Is it worth cutting ties with a young player with potential in order to land a much-needed backup? Is it better to wait until after the smoke clears and examine what remains in the rubble, then determine if it's better than what you've currently got? There are no simple answers, but Celtics president of basketball operations Danny Ainge must operate with one simple fact in mind: Boston has a team built for a run at an NBA title and these chances, while bountiful in recent seasons, are never guaranteed. Sometimes you have to sacrifice a bit of the future to take advantage of what you currently have.
--Bonus link: Peter May's players to keep an eye on