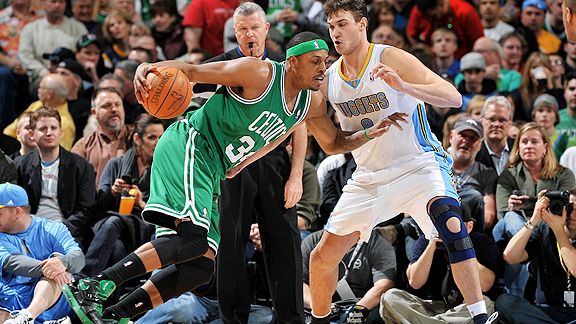 Garrett W. Ellwood/NBAE/Getty Images
Paul Pierce battled through early foul trouble against the Nuggets.DENVER -- Rapid reaction after the Denver Nuggets defeated the Boston Celtics 89-75 Thursday night at the Pepsi Center:


HOW THE GAME WAS WON
Kenyon Martin scored 14 of his game-high 18 points after the intermission, including an exclamation 3-pointer in the final moment, as the Nuggets scored the game's final 16 points to run away with a 14-point triumph. Newly acquired Wilson Chandler chipped in 16 points off the pine for Denver, while bench stalwart J.R. Smith kicked in 12 points for Denver. Paul Pierce overcame early foul trouble to score a team-high 17 points as Boston put five of its nine available players in double figures.
TURNING POINT
A Paul Pierce 3-pointer put Boston out front, 75-73, with 6:05 to play, but Boston went ice cold and couldn't get any stops to negate its offensive woes. The Nuggets scored the game's final 16 points, most of it coming in three-point doses, including Wilson Chandler's 3-pointer lighting the fuse, Kenyon Martin's crowd-igniting old-fashioned three-point play, and another and-one bucket from Arron Afflalo that helped Denver motor away. Martin's 3-pointer in the final moments the final head-shaking moment of the fianl six minutes.
STAT OF THE GAME
As expected, the undermanned and undersized Celtics got crushed on the glass as Denver finished with a 52-38 rebounding advantage.
UNSUNG HERO
Chris Johnson, signed out of the NBA Development League on a 10-day contract with Boston desperate for big bodies after trading away Kendrick Perkins and Semih Erden, responded with six points, three blocks, and a rebound over 15 minutes. Doesn't sound like much, but Boston desperately needed someone to eat up frontcourt minutes and Johnson was more than serviceable while decked out in Erden's old No. 86 jersey.
WHAT IT MEANS
The Celtics knew winning this one would be tough. Celtics coach Doc Rivers didn't like the idea of playing on the trade deadline, especially after Boston shipped out five bodies. Boston will look to get some fresh faces in time for Saturday's trek back to Los Angeles for Blake Griffin and the Clippers.