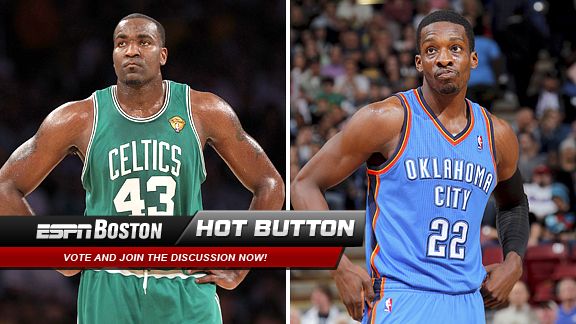 Getty Images

Are the Celtics better with Kendrick Perkins or Jeff Green? Cast your vote.

Is the Kendrick Perkins trade a dangerous chemistry experiment or does it make the Celtics a more dangerous team? Read our arguments and decide for yourself:
--FORSBERG: THIS CHEMISTRY EXPERIMENT NOT WORTH THE GAMBLE
Celtics coach Doc Rivers spent an entire summer telling us how Boston had never been defeated in a playoff series with its starting five intact. After Thursday's deadline shocker that sent starting center Kendrick Perkins to Oklahoma City, Rivers admitted we'll never know for sure what Boston's familiar five could have accomplished had they remained healthy this season.

But one thing is certain: As the dust settles following the trade deadline, the Boston Celtics are a weaker team than they were the day before because part of their nucleus has been pried away.
--MAY: CELTICS MORE TALENTED, VERSATILE AFTER THE DEAL
Examining the Celtics-Thunder trade on its merits, I think Danny Ainge has once again come out on top. Let's begin with the article of faith that the team that gets the best player usually makes out the best in the trade. Jeff Green is the best player among the four. I can't imagine any GM disputing that. Green is 24 years old. He was averaging 15.2 points a game, third on the Thunder behind Kevin Durant and Russell Westbrook.
What's your take? Click HERE to vote in the Hot Button poll.