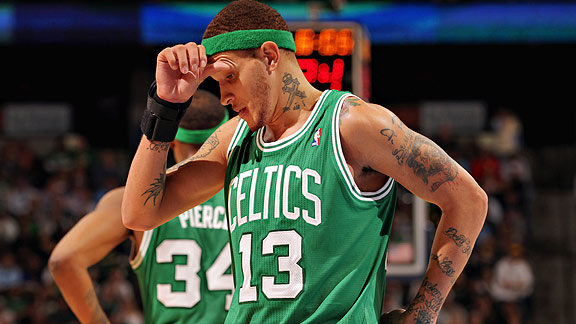 Doug Pensinger/Getty Images
The biggest midseason addition in the NBA might just have been Delonte West.Even with the Kendrick Perkins-for-Jeff Green deal that highlighted Thursday's NBA trade deadline, the Celtics biggest midseason addition could be Delonte West:
--FORSBERG: WEST WILL BE KEY TO CELTICS' SUCCESS--
Delonte West did a little bit of everything, but mostly was a pest at both ends, particularly on defense where his scrappiness frustrated Clipper ballhandlers. "[I've been] missing in action so much, I think guys forget I can play a little bit," West said after the game with a sly smile. "That's the way I like to keep it, though. I'm kind of a jack-of-all-trades. I do a lot of things good. Maybe not one thing great, but I do a lot of things good. I come off the bench, I'm able to see what's going on out there, and just come in and fill in, try to pick up where we're lacking."
--C'S, HEAT LINE UP AS MURPHY BUYOUT NEARS--

#3 PF
Golden State Warriors
2011 STATS
GM

18

PPG3.6

RPG4.2

APG0.9

FG%.342

FT%

.529
The Miami Heat and Boston Celtics have emerged as the leaders to sign forward Troy Murphy, sources close to the situation told ESPN.com. Murphy, who was traded last week to the Golden State Warriors after spending nearly two months in exile with the New Jersey Nets, completed a buyout agreement Sunday, source told ESPN.com. In a flurry of deals right at last Thursday's deadline, the Celtics traded three big men and also opened up three roster spots. Part of the strategy, league executives said, was to make room for one or two free agents to be added after buyout season. Murphy is a top choice to fill one of those roles.
* Bonus link: Our good friend Brian Robb of CelticsHub, our TrueHoop partner, examines potential buyout targets, including Murphy, Mike Bibby, Leon Powe, Rasual Butler.