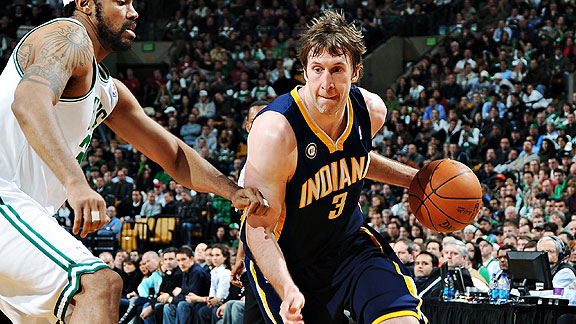 Brian Babineau/NBAE/Getty Images
Can Troy Murphy be better than Rasheed Wallace was last season?One of the lasting images from the NBA Finals last season was an overwhelmed Shelden Williams stumbling through four of the most head-shaking minutes in Finals memory during Game 2 against the Los Angeles Lakers. Those would have been Williams' final four minutes of action in a Boston uniform if not for the ACL injury suffered by Kendrick Perkins in Game 6, forcing Boston to lean on Williams for 14 minutes in the aftermath.
After spending much of their offseason beefing up their frontcourt to prevent such a reoccurrence, the Celtics likely had that image in mind while wooing Troy Murphy to Boston after the nine-year veteran secured a buyout from the Golden State Warriors this past weekend. The fact that it also prevented a chief rival from adding depth to its own paper-thin frontcourt only sweetened the deal.
The Celtics performed the textbook low-risk, high-reward addition by getting Murphy to agree to sign with Boston when he clears waivers Wednesday. The Green add a 6-foot-11 power forward who can stretch the floor with his perimeter shooting abilities and has been a rebound vacuum in past seasons.
Whether Murphy can rekindle that magic remains to be seen. If he can be anything close to the player he was for the Indiana Pacers during the 2008-09 season (45 percent shooter from 3-point land; tops in the league in defensive rebound percentage), then Boston just pulled off a heist by inking Murphy at the prorated veteran's minimum.
But even if he fails, the Celtics have won as well, because he'll never get the opportunity to find that spark with the Miami Heat.
Murphy essentially slipped into a black hole after being dealt from Indiana to his hometown New Jersey Nets as part of a four-team offseason swap. Coming off a 2009-10 season in which he produced solid numbers (14.6 points, 10.2 rebounds over 32.6 minutes per game), Murphy rotted away on the New Jersey bench, logging 288 minutes in a mere 18 appearances (four starts). Murphy is averaging a mere 3.6 points and 4.2 rebounds over 16 minutes per game this season and has seen the floor just once in the new calendar year (Jan. 7 vs. Washington).
Two months shy of his 31st birthday, it would seem Murphy has plenty left in the tank (if nothing else, he's five years younger and about $5 million cheaper than Rasheed Wallace, who never found his touch in Boston last season). The former 14th overall pick of the Warriors in the 2001 draft, Murphy ranks eighth among active players in defensive rebound rate (only the likes of Dwight Howard, Marcus Camby, Tim Duncan and new teammate Kevin Garnett are better), and his career 3-point percentage (39.1) has him on the cusp of being among the top 50 most accurate trifecta chuckers in NBA history.
If nothing else, Murphy will be loved in Boston. The "Dropkick Murphy" references will be unavoidable and that Irish last name will make him an immediate fan favorite, even if he ultimately emerges as little more than Brian Scalabrine 2.0.
The one thing that should make observers leery is that Murphy doesn't boast any playoff experience, just like Williams. He's appeared in 639 career games, none of which occurred after the month of April. There's always the chance that he'll come in, thrive over the final 25 games of the regular season, then get overwhelmed on the season's biggest stage.
It really doesn't matter. The Celtics are banking on the likes of playoff veterans Shaquille O'Neal and Jermaine O'Neal being healthy when the games matter most, which leaves Boston's frontcourt crowded as is with Garnett and Glen Davis claiming the lion's share of minutes, while newly acquired Nenad Krstic is making the most of his floor time thus far.
All of which makes anything Murphy gives you a bonus. On the surface, it's hard to imagine him cracking Boston's eight-man rotation in the postseason (the rotation is likely to consist primarily of versatile pieces like combo guard Delonte West, combo forward Jeff Green and forward/center Glen Davis).
But Boston is still just one injury away from needing someone like Murphy -- ideally the Murphy from the 2008-09 season -- to step in and prevent Banner 18 from slipping away again.
And that's better than letting him try to rejuvenate his career in South Beach, playing for a team that could desperately use a Troy Murphy up front.