MacMullan: C's still team to beat
March, 1, 2011
3/01/11
2:00
PM ET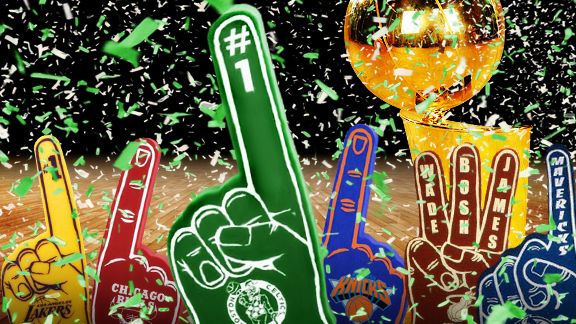 ESPN.com Illustration
As the dust settles from the shocking Kendrick Perkins trade, one thing remains clear: The Boston Celtics are still the team to beat. From Jackie MacMullan:
BOSTON -- After consummating the most jarring, controversial and gut-wrenching trade in the NBA on Thursday, the Boston Celtics took one game to mourn the loss of their "brother" Kendrick Perkins before turning their attention back to the task at hand -- raising Banner 18.

But did Celtics boss Danny Ainge's decision to gamble on a roster overhaul rather than a cosmetic touch-up torpedo Boston's chances of winning a championship?

Don't count on it. Lost in the hand-wringing over the Celtics' shocking move is that, when the game is hanging in the balance, Paul Pierce, Kevin Garnett, Ray Allen and Rajon Rondo are still available. The core of the team is intact, even after five players have moved on.
Click
HERE
to read the full story.
Want to see why other cities think their team is the best of the bunch? Follow the links below:
L.A. Lakers
|
NY Knicks
|
Chicago Bulls
|
Miami Heat
|
Dallas Mavericks
PODCASTS
Buster Olney, ESPN.com
Play Podcast ESPN MLB Insider Buster Olney gives his thoughts on Mike Trout's cycle and compares Trout's production with Miguel Cabrera's. Olney also says Jacoby Ellsbury's lack of production is putting the Red Sox in a tough spot and explains why Cole Hamels' poor start isn't too much of a concern.
Terry Francona, Indians
Play Podcast Indians manager Terry Francona dishes on his return to baseball, joining Cleveland, Miguel Cabrera, his time with the Red Sox, MLB's usage of instant replay and more.
Adam Schefter, NFL
Play Podcast ESPN NFL Insider Adam Schefter covers Rob Gronkowski's latest forearm surgery, the possibility of a new league schedule, Super Bowls L and LI, Charles Woodson and more.