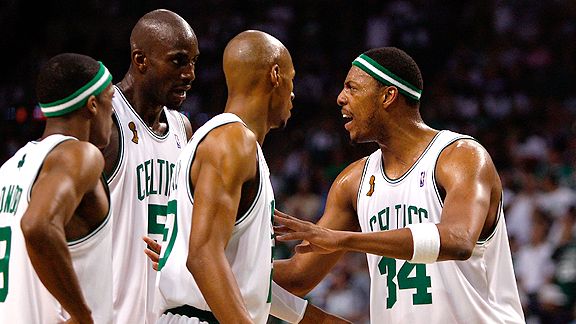 Jim Rogash/Getty Images
The Celtics play four of their next six games at home.With the All-Star break and a four-game Western Conference road swing looming on the horizon, the Celtics knew after their 94-80 victory over the New Jersey Nets back on Feb. 16 that they wouldn't see the TD Garden parquet for quite some time. Sure enough, the calendar has flipped to March, and for the first time in exactly two weeks, the Celtics will host an opponent on Wednesday night when the Phoenix Suns visit Boston.
The C's own some considerable momentum as they return to the welcome sites of their own homes and beds. They finished their Western Conference swing with a 3-1 mark, losing only to the Denver Nuggets on the day Kendrick Perkins and Nate Robinson were traded away, leaving them both emotionally drained and even more shorthanded than usual. Things took a turn for the better on their next outing, as they axed the Los Angeles Clippers in the team debuts of Nenad Krstic and Jeff Green, and followed it up with an exciting, down-to-the-wire win over the Utah Jazz on Monday.
So what's on tap for the Celtics? Home games, fortunately. Five of Boston's first eight games in March will be played in Boston, with manageable trips to Philadelphia, Milwaukee, and New Jersey sprinkled in. The opponents they'll face at home aren't exactly classified as juggernauts of the NBA, either. Unlike a four-game home stretch back in January that saw them play the Dallas Mavericks, Orlando Magic, Los Angeles Lakers, and Miami Heat (who currently have a combined record of 166-74), the Celtics will take on the Phoenix Suns, the Golden State Warriors, the Los Angeles Clippers, the Milwaukee Bucks, and the Indiana Pacers (who boast a combined record of 126-167) over their next five at the Garden.
With all of this said, let's take a closer look at the next two weeks for Boston:
Wednesday, March 2 - Celtics vs. Suns: Numerically speaking, the Suns handed the Celtics their worst loss of the season (a forgettable 88-71 clubbing) back on Jan. 28 in Phoenix. Playing on the second night of a brutal back-to-back, the Celtics displayed virtually no intensity, and the only highlights were negative ones: Doc Rivers was ejected for arguing with referee Steve Javie in the second quarter, and Kevin Garnett got into fourth quarter dust-ups with Mickael Pietrus and Channing Frye. The incident with Frye was more notable, considering Garnett appeared to jab him below the belt on a 3-point field goal attempt. Wednesday will mark the first time they'll have seen each other since the incident. How will things play out between them?
Friday, March 4 - Celtics vs. Warriors: These two clubs squared off last Tuesday in Oracle Arena, with the Celtics emerging with a 115-93 victory in Oakland -- their first since 2003. Things will be a tad bit different this time around, though, as Green and Krstic are now in the mix for Boston. The Celtics were able to hold Monta Ellis to just 15 points, but the explosive guard can catch fire at any time. The Celtics could use the defense of Delonte West off the bench in this one, and sure enough, Friday is the current target date for West to return from a minor right ankle sprain.
Sunday, March 6 - Celtics at Bucks: Milwaukee finds itself just four games out of the eighth and final playoff spot in the Eastern Conference, meaning a potential first-round playoff matchup between these two clubs isn't entirely out of the question. Historically, the Celtics have struggled with young, athletic teams, and the Bucks certainly boast some legitimate pieces in point guard Brandon Jennings, forward Ersan Ilyasova, and center Andrew Bogut. The C's have had trouble defending Bogut and his arsenal of low post moves in the past. Last season the Utah product averaged a ridiculous 25 points and 15.5 rebounds in two games against the Celtics.
Wednesday, March 9 - Celtics vs. Clippers: These two teams won't be strangers, seeing as the Celtics knocked off LA, 99-92, this past Saturday. Mo Williams -- who was recently brought over from Cleveland in a deal for Baron Davis -- was absent for that game, but he'll be in uniform when the Blake Show arrives in Beantown. Boston's most effective weapon against the Clippers last Saturday was free throws, as they registered a season-high 41 attempts from the line. Paul Pierce in particular led the charge, garnering 13 attempts all by himself, as he routinely abused Clippers forward Al-Farouq Aminu. Will the Celtics channel that same aggressiveness for this game?
Friday, March 11 - Celtics at 76ers: Philadelphia has served as a headache team for the Celtics all season. They seem to play better than their 30-29 record would suggest (particularly against the Celtics), and while Boston owns a 2-0 record against them this season, its average margin of victory in those two games was a mere 2.5 points. The last time these two clubs met in Philly, the Celtics trailed 101-100 with 6.6 seconds to play and had to resort to a memorable Rajon Rondo-to-Kevin Garnett alley-oop lay-in with 1.4 seconds left to escape with a 102-101 victory. While the Celtics, and their 43-15 record shouldn't struggle against Philadelphia in theory, this season's history suggests otherwise. Don't be surprised if this one stays as close as the first two were.
Sunday, March 13 - Celtics vs. Bucks: These two clubs will have just played each other a week earlier out in Milwaukee. Will one team gain an advantage from the familiarity? These teams met in Boston once already this season, on the second night of a back-to-back for the Celtics. It took overtime, but Boston eventually emerged with a hard-fought 105-102 victory.
Monday, March 14 - Celtics at Nets: The Atlantic Division has absorbed some pretty potent star power these last few weeks, with Carmelo Anthony landing with the New York Knicks and Deron Williams finding a new home as a member of the New Jersey Nets. The Celtics will get their first look at Williams in a Nets uniform on this date as they'll seek to complete a four-game sweep of New Jersey this season. So far, the Williams era has gotten off to a bumpy start, as New Jersey has dropped its first three games with its newest acquisition in the lineup.
Wednesday, March 16 - Celtics at Pacers: The Celtics round out their first eight games in March with a scrum at home against the Indiana Pacers, who have posted a promising 9-5 record since assistant coach Frank Vogel took over the reins of the team after head coach Jim O'Brien was relieved of his duties back on Jan. 30.
The Celtics need to enjoy their time at home while it lasts, since the tables turn on them over the final eight games in March. The Celtics will only have two home games sandwiched in between two separate three-game road trips to close out this month, as the postseason continues to draw ever closer.
Greg Payne is a student intern for ESPNBoston.com