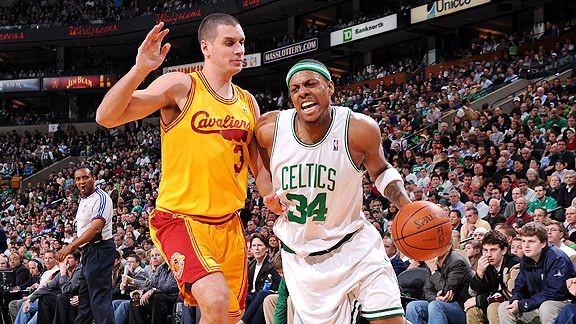 Brian Babineau/NBAE/Getty Images
Sasha Pavlovic defends Paul Pierce as a member of the Cleveland Cavaliers.WALTHAM, Mass. -- In the early days of the Big Three, the Boston Celtics visited the Cleveland Cavaliers and, thanks in large part to a 16-point performance by Sasha Pavlovic, the hosts emerged with a 109-104 overtime triumph, handing Boston one of only two losses it would endure over the first 22 games of the 2007-08 season.
While Celtics coach Doc Rivers didn't reference the game specifically on Thursday, he did note that he had been playfully chiding Paul Pierce and Ray Allen about a couple good games Pavlovic produced against Boston in recent seasons.
"[Pavlovic] was pretty good," said Rivers. "He didn't play consistent minutes [with Cleveland], he was in and out, but he had two games against us -- one was a game at Garden, where they went [isolation] with him offensively and, basically, he kicked our butts. I reminded Paul and Ray of that quite a bit over the last couple days. What I've always liked about him is whether he was playing a minute or five minutes, defensively, you could see they trusted [him]. He could guard anybody and he didn't care who you were. Maybe they didn't understand him, who knows. I like that."
Hop HERE to read more on Pavlovic, or check out the video below...