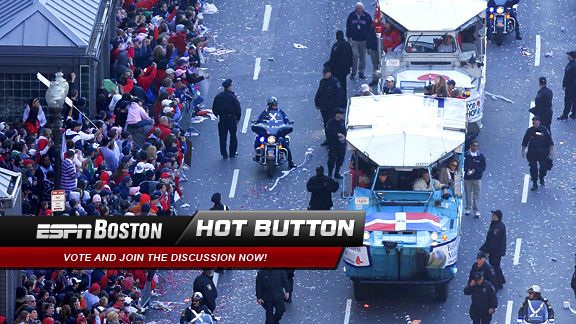 Jim Rogash/Getty Images

Which of Boston's winter teams has a better shot at a title?

The Bruins and Celtics both have legitimate title hopes. But which one is more likely to parade through Boston in June? ESPNBoston.com's Bruins writer James Murphy and I debate in this week's Hot Button topic. Here's a sample of the arguments:
--FORSBERG: HISTORY ON CELTICS' SIDE IN THIS ARGUMENT--
It's cute how Bruins fans get all giddy about their Stanley Cup chances around this time each year (I picture Blades the Bear coming out of his cave and looking for his shadow, like some oversized groundhog predicting future on-ice success). I'd love to share in that excitement, except that I was eight years away from being born the last time the Bruins sent a banner to the rafters, so color me skeptical. Don't get me wrong, I'd love to see Boston's hockey team win it all (at least once in my lifetime). But if we're trying to figure out which of the Garden's tenants will win it all this year, odds say it'll be the team that's produced six world championships since the Bruins' last drink from the Cup in 1972.
--MURPHY: CHIARELLI HAS BRUINS CLOSER TO A TITLE--
The Boston Bruins have a better chance of finishing this season with a title than the Celtics because their general manager decided at the recent NHL trade deadline that winning now is more important than building for the future. Of course, Peter Chiarelli had a solid young nucleus in place already with the likes of Patrice Bergeron, David Krejci, Brad Marchand, Tyler Seguin and Tuukka Rask, but he saw the team's window for a Stanley Cup closing and decided to go for it.
Hop HERE to vote in this week's Hot Button topic.