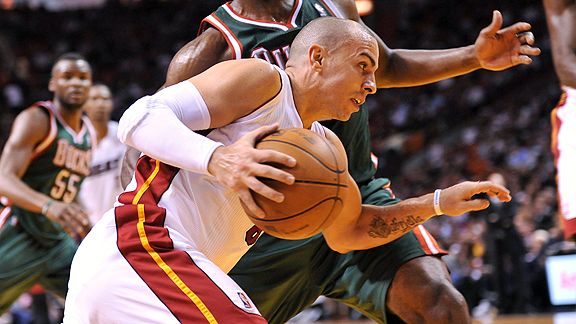 James Riley/NBAE via Getty Images
The Celtics added backup depth with the signing of Carlos Arroyo.WALTHAM, Mass. -- In need of a veteran ball-handler to back up point guard Rajon Rondo, the Boston Celtics moved Saturday to sign Carlos Arroyo for the remainder of the season, a league source confirmed.
With Delonte West sidelined by a sprained right ankle, the Celtics were leaning on rookie Avery Bradley as the primary reserve ball-handler on an overhauled second unit. With Rondo's playing time escalating, including a team-high 42 minutes in Friday's win over the Golden State Warriors, Boston decided to use a roster spot that will open with Chris Johnson's expiring 10-day contract to add Arroyo.
Arroyo, a ninth-year point guard, was jettisoned by the rival Miami Heat earlier this week to make room for bought out Mike Bibby. Arroyo averaged 5.6 points and 2 assists per game in 49 appearances with the Heat, starting 42 games before his departure.
The 31-year-old Arroyo also has 34 games of playoff experience, including being with Miami for last year's first-round battle with the Celtics.
While the move is unlikely to tweak the Heat much, the Celtics do add a player that spent much of the season with a rival (certainly a benefit for any late-season addition). Boston also won a tug-of-war with the Heat earlier this week for the services of backup forward Troy Murphy.
Arroyo is unlikely to have much of a long-term impact if West is able to get (and stay) healthy, but Boston hasn't had a pure backup ball-handler behind Rondo very often over the last two seasons and it provides yet another veteran body that Rivers can toss out there when the situation allows. Projecting a 12-man roster for the postseason, it seems unlikely Arroyo would even make that cut should Boston get all of its troops healthy (a big if for a Celtics team battered and bruised all season).