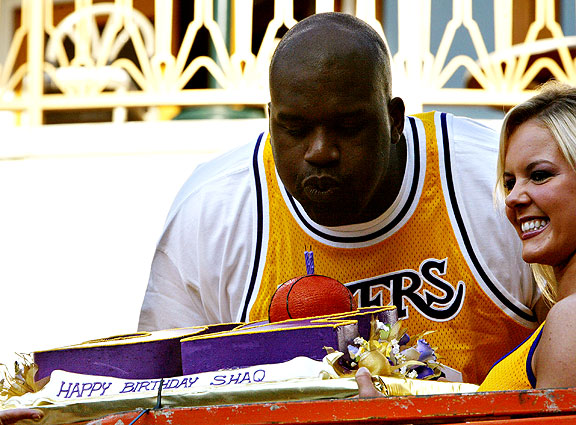 Getty ImagesShaq blows out the candles on a birthday cake while with the Lakers.
Celtics center
Shaquille O'Neal
turns 39 today. Earlier this week he lobbied coach Doc Rivers for a birthday return to the court, but his foot is acting up and he'll have to settle for more rest and relaxation on his big day. Which is probably too bad for the Celtics, because O'Neal loves to throw a big-game party on his b-day. According to ESPN researchers, O'Neal holds the NBA record for most points on his birthday, scoring a career-high 61 points on 24-of-35 shooting with 23 rebounds in a win over the Clippers on March 6, 2000 while playing for the Lakers.
Here's a look at a list of most points scored by a player (with their birthday):
Shaquille O'Neal - 61 - March 6, 1972
Dominique Wilkins
- 53 - Jan. 12, 1960
LeBron James
- 48 - Dec. 30, 1984
Michael Jordan
- 46 - Feb. 17, 1963
Neil Johnston - 45 - Feb. 4, 1929
PODCASTS
Adam Schefter, NFL
Play Podcast ESPN NFL Insider Adam Schefter weighs in on the Panthers' WR situation, Julian Edelman's future with the Patriots, Vince Wilfork's decision to ask for his release and more.
Spanning the Globe: 3/13
Play Podcast "Spanning the Globe" features ESPN Boston's Mike Reiss, Yahoo! Sports' Eric Edholm and ESPN LA 710's Mark Willard.
John Farrell, Red Sox
Play Podcast Red Sox manager John Farrell talks about whether he expected his team to make such a turnaround in one season, his relationship with his players, fans' expectations for the squad and more.