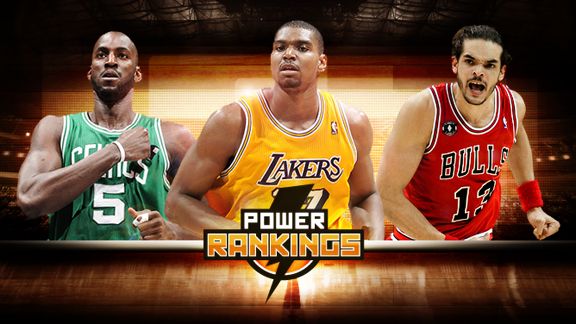 ESPN.com Illustration
Kevin Garnett and the Celtics won four games last week ... and lost ground.With the Los Angeles Lakers vaulting straight to the top of the ESPN.com NBA Power Rankings following Sunday's thrashing of the San Antonio Spurs, the Boston Celtics actually slipped a spot to No. 5.
The Eastern Conference-leading Celtics are now a whopping three spots behind a Chicago Bulls team it beat twice this season. Writes curator Marc Stein: "The new guy looked pretty loose Friday night in our first up-close glimpse of Jeff Green in green. Can't help but wonder, though, if he really realizes how much playoff scrutiny is coming in the Celts' post-Perk world."
In John Hollinger's computerized power rankings, the Celtics are also at No. 5 with both the Bulls and Heat (along with the Lakers and Spurs) ahead of them. Not even Boston's 8-2 record in its last 10 games could save it with a poor margin of victory in its last 25 percent of games.
It's a No. 5 spot sweep as the Celtics also drop to fifth in NBA.com's weekly power rankings (albeit, only one spot behind the Bulls). Writes curator John Schuhmann, "Nenad Krstic seems to be fitting in just fine, averaging 12.2 points on 57 percent shooting in his five games as a Celtic. And thanks to the dominance of yet another starting lineup, the Celtics averaged a ridiculous 56.3 points on 57 percent shooting in the first half of their four games last week."