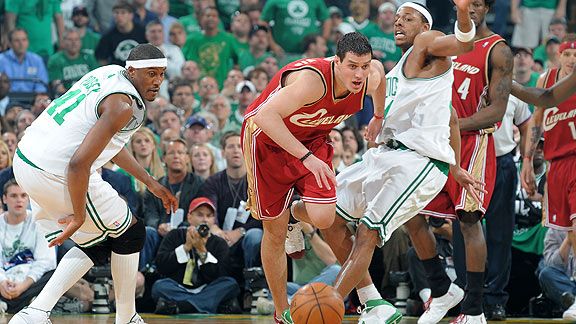 Brian Babineau/NBAE/Getty Images
Boston was familiar with Sasha Pavlovic's defense in Cleveland.WALTHAM, Mass. -- The stat line from his Boston debut wouldn't do much to turn heads. But Sasha Pavlovic did more than raise the eyebrows of Celtics coach Doc Rivers with a defensive-minded performance in Sunday night's win over the Bucks.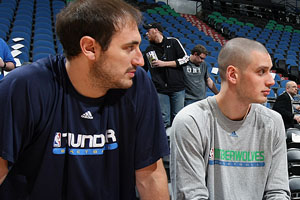 David Sherman/NBAE/Getty Images
Nenad Krstic and Sasha Pavlovic chat long before they were teammates.Pavlovic chipped in three points and two steals over 12 minutes in Boston's 89-83 victory in Milwaukee, but it was the defensive intensity that caught Rivers' eye.
"I told him after the game, 'You just play defense like you played tonight,'" Rivers told reporters in Milwaukee. "I could care less if he makes a shot or misses a shot. If he makes a shot, that's great. Honestly, I told him I could care less about that, because, from making the calls, he always gets down on his missed shots, and I told him, 'I could care less. You could take 50 of them and miss them all, if you defend like that.' He was phenomenal. He may have been our best defensive player on the floor tonight. He was unbelievable."
Rivers might have been embellishing just a tad, seeing as there was still a guy named Kevin Garnett participating in that same game (Garnett came through with a game-saving block in the final seconds). But Rivers maintained from Pavlovic's very first day with the team that one of the main reasons the Celtics pursued him was because of his reputation on defense. Rivers noted that Pavlovic's toughness is often overlooked, and that's a mindset that the Celtics will welcome, in no small part because they did lose a fair amount of toughness when they shipped Kendrick Perkins to the Oklahoma City Thunder at the trade deadline.
"That's the only way you can make it in this league," Pavlovic said following the Celtics' practice Tuesday at the Sports Authority Training Center at HealthPoint. "[Playing tough is the only way] you can get minutes. I'm never going to give up on the play."
His glossy defensive rating -- a measure of points allowed per 100 possessions -- suggests he's not lying. While it's a small sample size, Pavlovic posted a 91 defensive rating in his debut, which, if maintained, would be three points better than Kevin Garnett's league-leading 94 defensive rating. What's more, it's at the complete opposite end of the spectrum compared to the defensive ratings being posted by his fellow newcomers like Jeff Green (103), Nenad Krstic (104), and Troy Murphy (106).
Granted Pavlovic's sample size is very, very small, and that figure will most likely drop as he plays more minutes. But at the very least the figure stands as a promising start, and helps to illustrate the potential impact Pavlovic could end up making on the defensive end of the floor for the Celtics.
"I prepared myself to get in and play as hard as I could defensively, help my teammates, and that's all," Pavlovic said of his effort against the Bucks. "That's all I'm going to try to do.
"That's how I'm going to prepare for the game, just to play as hard as I can defensively, and whatever happens in the offense happens. We've got way too many talented players on this team to score to the ball, so my main focus is defense."
Pavlovic has played on notable defensive teams in the past. He spent five seasons with the Cleveland Cavaliers, and in three of his final four seasons there, Cleveland ranked in the top 10 in the NBA in defensive efficiency. Still, Pavlovic acknowledged that, in his short time in Boston, he's never been a part of a more committed defensive unit.
"We played tough defense in Cleveland, too," said Pavlovic. "But every system is a little bit different, and I think what makes [the Celtics] a championship team is how well they play together on defense, how well they help each other defensively."
Pavlovic also credited Garnett's defensive presence as one of the key reasons why the Celtics are successful on that end of the floor. On top of that, Pavlovic said he's enjoying playing defense alongside a guy like Garnett.
"I do [enjoy playing defense], especially with this team," Pavlovic said. "It's even easier to play when you've got a guy like Kevin Garnett, who's talking all the time, helping you all the time, and [making] you feel comfortable. I like playing defense."
Depending on how Boston's eventual playoff roster is comprised, Pavlovic's size and toughness could be incredibly useful against the slew of swingmen the Celtics are likely to meet throughout the postseason. Pavlovic is listed at 6-foot-7, 235 pounds -- measurements that are nearly identical to those of Paul Pierce, who continues to serve as the Celtics' primary defensive option against elite wing players.
Given the Celtics' recent additions, a three-man defensive rotation of Pierce, Jeff Green (6-foot-9, 235 pounds), and Pavlovic could be somewhat daunting for the likes of Carmelo Anthony of the New York Knicks, Luol Deng of the Chicago Bulls, and, perhaps most importantly, LeBron James of the Miami Heat.
Pavlovic is quite familiar with James's game, as the pair played together in Cleveland throughout the duration of Pavlovic's time there. But he was quick to note that familiarity alone won't be enough to slow down James.
"Yeah, I [was with James] for like five years," Pavlovic recalled. "I know him, but LeBron is LeBron. He's probably going to get his points. Believe me, I'm going to do my best against anybody. Whoever they put me against, I'm going to play the same way."
Being strong defensively along the perimeter won't be enough to guarantee the Celtics a championship, however. Pavlovic was quick to note that the guys around him are putting in the same effort on defense and it's that consistent effort from all positions on the roster that gives him an optimistic outlook on the postseason.
"You've got to have a lot of guys who want to play defense in order to win the championship, or the ball game," said Pavlovic. "I think we have enough of that here. If we just play together like we do, like I see the team is playing, I think we have a good chance to win."
Greg Payne is a student intern for ESPNBoston.com