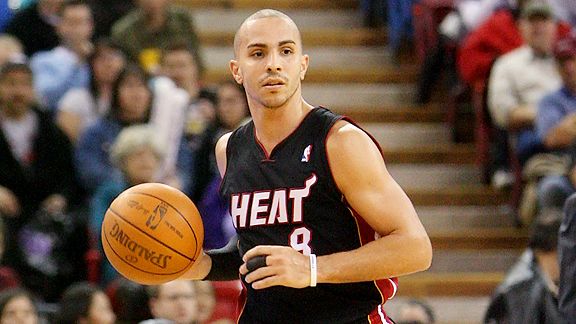 Greg Ashman/Icon SMI
Carlos Arroyo isn't focused on his past in Miami, just his future in Boston.Carlos Arroyo had no bitter words for his former team, the Miami Heat, but hinted that winning a championship in Boston would be especially sweet. And he'll aid that quest by limiting the minutes for All-Star point guard Rajon Rondo:
--ARROYO: READY AND WILLING TO AID CHAMPIONSHIP CAUSE--
Peppered with questions about his former employer, Carlos Arroyo wouldn't take the bait after his first practice Tuesday with the Boston Celtics. His fall from the rotation? A coach's decision, Arroyo said with a shrug. Crying in the locker room? No comment, he offered after a chuckle. Something to prove now? Not after nine years in the league, he suggested. After Arroyo took a moment to talk about what an honor it was to put on a Celtics jersey, a reporter took one more stab, asking him if there wasn't at least a tiny part of him that wanted to crush the Heat for kicking him to the curb last month. "I want to win a championship, to be honest with you," said Arroyo. "I want to win. I'm very passionate about the game and I have a great amount of respect for the game. I feel very fortunate to be here."