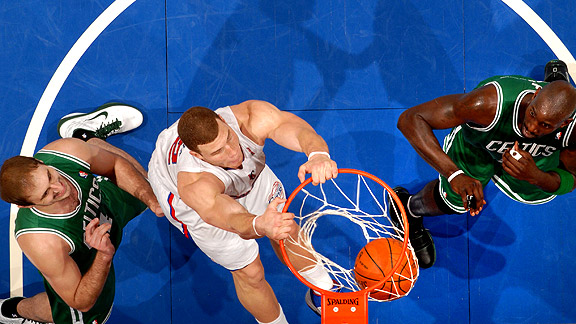 Andrew D. Bernstein/NBAE/Getty Images
The Celtics know it won't be easy to keep Blake Griffin off the rim.WALTHAM, Mass. -- When the Boston Celtics got their first look at Blake Griffin last month in Los Angeles, their goal was not to allow any loud dunks.
That didn't happen, with Griffin throwing down one particularly thunderous one-handed tomahawk alley-oop jam in the first half of Boston's triumph at the Staples Center. Griffin makes his TD Garden debut Wednesday and Rivers still has that lofty goal of keeping him off of SportsCenter.
"We'd like zero [dunks]," said Rivers. "That was our goal and that didn't really work out the last time in L.A. So he's just an amazing athlete, he really is."
As a former point guard, Rivers marvels at how much fun it must be to be able to toss the ball anywhere near the basket and have him convert so many into highlight-worthy jams. Especially since Rivers wasn't the best oop tosser.
"I used to lie, I was the worst alley-oop passer in probably NBA history," said Rivers. "But no one knew it because I played with Dominique [Wilkins]. I could throw the ball anywhere. With Blake, it's even more like that. All the bad passes are good passes. You just throw it."
Asked if Griffin reminds him of any modern player, Rivers offered quite the compliment.
"When I first saw him, I said David Robinson because of his athleticism," said Rivers. "Now, it's David Robinson to the second power. I don't know what he is. He's just an unbelievable athlete."