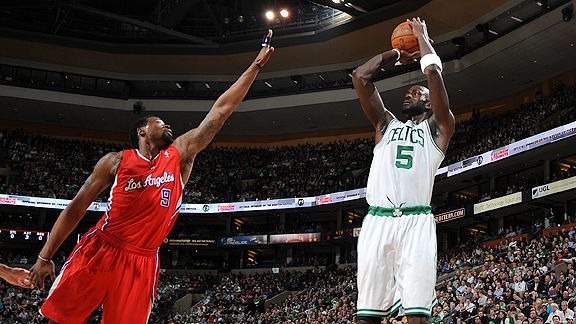 Brian Babineau/NBAE/Getty Images
Kevin Garnett and his Celtics teammates were simply off Wednesday night.BOSTON -- Rapid reaction after the Los Angeles Clippers defeated the Boston Celtics 108-103 Wednesday night at TD Garden:


HOW THE GAME WAS WON
Mo Williams gunned his way to a game-high 28 points on 9-of-17 shooting, hitting 5-of-7 attempts from beyond the arc, while DeAndre Jordan bumped Blake Griffin from the highlight reel, producing most of his 21 points (on 9-of-10 shooting) on rim-rattling dunks. The Clippers built a lead that ballooned as high as 23 points before Boston made a handful of fourth-quarter charges that all fell short. Ray Allen chipped in a team-high 23 points, while Nenad Krstic totaled a season-high 20 points for the Celtics.
TURNING POINT
The Celtics boasted the momentum after closing out the third quarter strong, trimming their deficit to 10. The Clippers promptly scored the first six points of the fourth frame, Al-Farouq Aminu and Chris Kaman pairing up to do the damage. Kaman also blocked a Rajon Rondo layup during the spurt, pushing the lead back to 16 and making Boston's comeback attempt all the more daunting (the Celtics got as close as three, but Los Angeles pushed back each time).
STAT OF THE GAME
Very rarely do the Celtics find themselves out-assisted by an opponent, but the Clippers finished with a 28-21 edge in that category. Rondo chipped in nine assists -- modest by his lofty standards -- but Randy Foye produced a game-high 12 dimes.
UNSUNG HERO
Old friend Ryan Gomes quietly chipped in 12 points over 25 minutes for the visitors, connecting on 5-of-8 shots, including a pair of triples. One of those trifectas pushed Los Angeles' lead back to double digits with four minutes to play.
WHAT IT MEANS
The Celtics kept Blake Griffin off the highlight reel for the first 46 minutes, but he sneaked in left-handed jam over Krstic with 1:35 to go that put the Clippers out front by 11 and essentially sealed the victory. Boston limited Griffin to 12 points on 4-of-14 shooting (though he chipped in seven rebounds and five assists over 37 minutes). It's only Boston's sixth home loss of the season and the injury depleted Celtics can hardly blame it on a lack of bodies as the Clippers built their lead early.