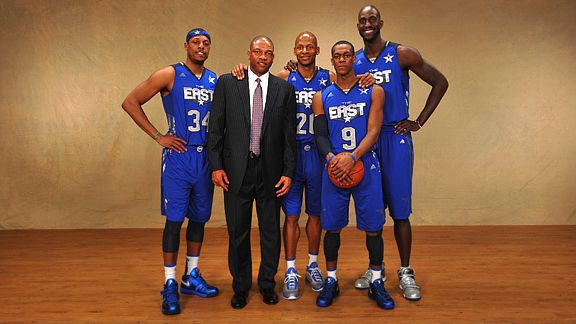 Jesse D. Garrabrant/Getty Images
Doc Rivers knows he's leaning on his four All-Stars right now.When the Celtics acquired the likes of Jeff Green and Nenad Krstic, they knew they'd be in for a period of adjustment. Factor in the additional pickups of Troy Murphy, Sasha Pavlovic, and Carlos Arroyo, along with the barrage of injuries to key players in Delonte West (sprained right ankle), Shaquille O'Neal (right foot injuries), and Glen Davis (strained left patella tendon), and the transition period might end up lasting longer than originally thought.
What hasn't changed amidst the roster shakeups and the injuries is the status of Boston's core four players in Rajon Rondo, Ray Allen, Paul Pierce, and Kevin Garnett. If anything, the burden on these four has increased since the acquisitions, and the last handful of games in particular, seeing as they've been trying to keep the team afloat while the new guys get acclimated and established players make the transition back to the court from the training room.
Right now, Boston's available bodies consist of the Big Four, five newcomers, and a rookie in Avery Bradley. Without question, the slack must be picked up by the core four, and, up until Wednesday night's 108-103 loss to the Los Angeles Clippers, it had been.
Consider this: The Celtics won the first five games Green and Krstic appeared in. In those five games, Rondo, Allen, Pierce, and Garnett accounted for 67.1 percent of the team's total points (347 of 517), 67.5 percent of the team's total rebounds (129 of 191), and a whopping 84.4 percent of the team's total assists (98 of 116).
The individual efforts over the five-game stretch were praiseworthy. Rondo averaged 39 minutes and 12.2 assists per game. Pierce was named the Eastern Conference Player of the Week for his performances in the final four of those five games. Garnett averaged 10.6 rebounds per game, while Allen buried 17-of-27 3-point field goal attempts, good for a staggering 62.9 percent clip.
Wednesday's loss to the Clippers, though, showed just how vulnerable this Celtics team currently is when those four suffer through an off night. The Celtics starters lacked their usual spunk throughout the first quarter of Wednesday's game, and the Clippers gladly took advantage, building a lead as big as 14 at one point before settling for a 30-17 edge heading into the second frame.
"Well I believe we gave [the Clippers] confidence early and then there's a point where every time when we did bump the cutters and they got sucked in and made the extra pass, they made the shots," said Ray Allen. "They hit shots that we wouldn't have expected them to hit otherwise, so we gave them that confidence early. It definitely was us, the starting five. We didn't jump into the game and when we got going it was too late."
L.A.'s lead blossomed to as many as 23 at one point, before Boston embarked on a furious second-half rally that couldn't quite get them over the hump and keep their win streak alive. Rondo shot just 5-of-16, and was thoroughly outplayed by Clippers point guard Mo Williams, who finished with 28 points on 9-of-17 shooting. Kevin Garnett made just 5-of-19 field goal attempts, good for a season-low 26.3 percent from the floor. None of the four finished on the positive side of the plus/minus stat, with Garnett registering a team-low minus-16. Overall, Boston's Big Four shot a combined 32-of-72 from the floor, good for just 44.4 percent.
"We were a step slow," said Garnett. "They started off very, very, very explosive, they got easy buckets really early, so we dug ourselves a hole early. It was like we were running up sand, running up a hill in the sand from then on. But I thought, you know, we fought back, missing easy shots that we all usually hit. Lord knows I missed some shots that I know I work on every day. But that's what it is."
Added head coach Doc Rivers: "When you think about that, we have four starters who've been here, and if everyone else on your team is new, that makes it difficult. I was concerned because in the first quarter our four starters put us in a hole, and then you needed to sub, and you knew nothing good was going to happen, and it actually didn't. [The reserves] held their ground. The problem was it was a 20-point ground, their hole, and that's very difficult."
For Rivers and Co., the likes of Davis, West, O'Neal, and even Von Wafer can't get back soon enough. Not only will those four bolster a bench that desperately needs the support, but they all already know the ins-and-outs of the Celtics' system. Until then, Boston will have to continue to lean heavily on Rondo, Allen, Pierce, and Garnett, and run the risk of another poor showing from them leading to another defeat.
Greg Payne is a student intern for ESPNBoston.com