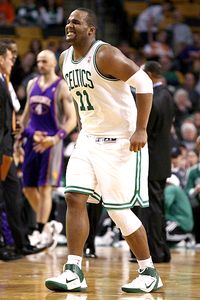 Elsa/Getty Images
Glen Davis hobbles off the court after straining his left knee in last week's win over the Phoenix Suns.PHILADELPHIA -- Celtics coach Doc Rivers said reserve forward/center Glen Davis is on schedule to return to action Sunday night against the Milwaukee Bucks and Delonte West should be back on the floor later next week.
Davis, who will miss his fourth consecutive game Friday due to a strained patella tendon in his left knee, went through skeleton offense during Friday's shootaround and will likely ramp up his activity Saturday with eyes towards getting back on the court when the Bucks come to Boston.
"He looked better," said Rivers. "He didn't do enough, just skeleton. You can't tell from that. It's just skeleton offense, nothing strenuous. But I do think he'll play Sunday, we just don't know for sure."
West, who will sit out his sixth consecutive game Friday due to a sprained right ankle, is doubtful for Sunday's game with Rivers suggesting he's more likely to return later in the week.
"We've got a lot of games coming up," said Rivers. "We hope we can get a lot of guys back."
A couple of other quick hits from Philly:
* After warming up on the floor, Carlos Arroyo plopped down at his stall in the visitor's locker room and watched a highlight reel of the Celtics' offense on a MacBook. Arroyo watched play after play -- and all the possible options off each call -- were displayed. It looked daunting, but both Rivers and Ray Allen called him a quick study.
"I give him a lot of credit, at shootaorund this morning, [the second unit] knew every play and they ran through it like they've been doing it all year," said Allen. "The second unit that we have now, a lot of them have a high basketball IQ."
* The Celtics are unlikely to practice as a team Saturday with Rivers noting the need to simply give those healthy bodies a break. But he did note that the freshest faces (and those rehabbing) are likely to visit the practice facility.
"We don't have enough bodies right now [for practice]," said Rivers. "We have to have rest days."