Insider: Who's better: Rondo or Williams?
March, 14, 2011
3/14/11
1:26
PM ET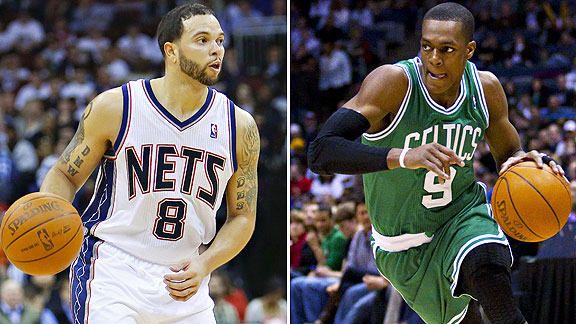 US PresswireThe better point guard: Deron Williams or Rajon Rondo?
Who's the better point guard: Rajon Rondo or Monday's foe, the Nets' Deron Williams? ESPN Insider breaks it down:
--
WHO'S BETTER: RONDO OR WILLIAMS?

--
Point guard is the deepest position in the NBA. Never before have there been so many quality floor generals in both conferences, and never before has the debate raged this fiercely about who among them is the best. Deron Williams and Rajon Rondo's styles are at the opposite end of the lead guard spectrum. The once maligned Rondo has become the Boston Celtics' most valuable player, and Deron Williams toggles between potentially the best point guard in the league and the guy who never gets enough credit. Now they occupy the same division, so there's no better time for them to square off in our weekly matchup. It's D-Will's power and speed against Rondo's cunning and unselfishness.
ESPN the Magazine's Chris Palmer breaks the matchup down in four categories, with Rondo earning advantages in key strength (basketball IQ) and secret skill (creative passing). But the overall winner? Palmer gives the nod to Williams.
PODCASTS
Adam Schefter, NFL
Play Podcast ESPN NFL Insider Adam Schefter weighs in on the Panthers' WR situation, Julian Edelman's future with the Patriots, Vince Wilfork's decision to ask for his release and more.
Spanning the Globe: 3/13
Play Podcast "Spanning the Globe" features ESPN Boston's Mike Reiss, Yahoo! Sports' Eric Edholm and ESPN LA 710's Mark Willard.
John Farrell, Red Sox
Play Podcast Red Sox manager John Farrell talks about whether he expected his team to make such a turnaround in one season, his relationship with his players, fans' expectations for the squad and more.