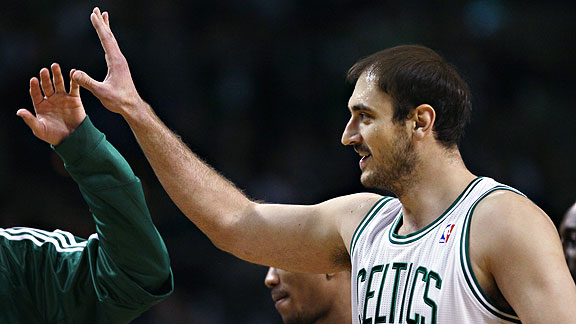 Elsa/Getty Images
Nenad Krstic earned a Player of the Week nomination for his efforts last week.Further highlighting his strong play, Celtics center Nenad Krstic was one of only four Eastern Confernece hoopsters nominated for Player of the Week honors last week (which went to Miami's Dwyane Wade).
Here's a quick glimpse at how Krstic performed last week:
* March 9 vs. Clippers: 17 points on 7-of-10 shooting, 9 rebounds, 38 minutes

* March 11 vs. 76ers: 16 points on 6-of-15 shooting, 15 rebounds, 34 minutes

* March 13 vs. Bucks: 11 points on 5-of-8 shooting, 14 rebounds, 27 minutes
For the month of March, Krstic is averaging 14.7 points and 8.5 rebounds over 29.2 minutes per game, while shooting 57.1 percent from the floor. In eight appearances for Boston, Krstic has scored double digits in all but his debut (when he chipped in nine points).
As we playfully noted last night, Krstic now boasts a longer double-double streak (2 games) than Kevin Love (0 games). Just pointing out facts.