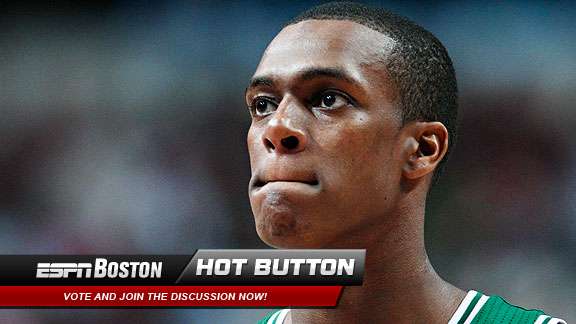 AP Photo/Matt Slocum

Is Rajon Rondo bothered by an injury, or is he simply struggling late in the season?

What's wrong with Rajon Rondo? Our experts try to diagnose the Celts spark plug's recent struggles in this week's ESPN Boston Hot Button topic. Here's a glimpse at the arguments:
--MAY: SOMETHING IS NOT RIGHT WITH RONDO--
Rondo's health is what matters here and if it means shutting him down for a while, by all means, do it. The Celtics have better replacements for Rondo now than they did in November and December, when he missed 11 games with hamstring and ankle injuries. Back then, it was basically Nate Robinson running the show and the Celtics went 7-4 in the games Rondo missed. Now, they have Carlos Arroyo, who already has shown an impressive aptitude for running the team, and the returning Delonte West, assuming he can play with some degree of caution. That's not Rondo, but it's not a bad 1-2 punch off the bench.
--FORSBERG: NOTHING TO WORRY ABOUT WITH RONDO--
The conspiracy theories are a lot more intriguing, but alas, the reason behind Rajon Rondo's recent struggles is really quite boring: Rondo and the Celtics are displaying typical March sputters and the team's inability to win games during this stretch have highlighted his trials. Let's start with the facts: For the month of March, Rondo is averaging 8.1 points and 9.3 assists per game (not too shabby, but modest by his lofty standards). Compared to his February numbers, Rondo is down 4.2 points and 1.2 assists per contest. That's troubling, there's no doubt. But go back and look at the trends from the past two seasons. It's almost par for the course.
Click HERE to vote in this week's Hot Button.