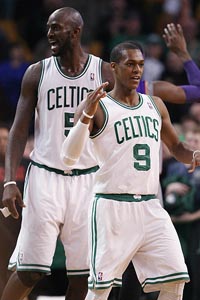 Elsa/Getty Images
Kevin Garnett suggested Rajon Rondo is battling through some health woes.The hottest topic around the Celtics centers on the health of Rajon Rondo and whether the All-Star point guard's struggles are related to injury or if he's simply in a slump.
Here's the CliffsNotes version: Kevin Garnett said Rondo is playing hurt; Coach Doc Rivers said it's a slump and that KG is misinformed; Captain Paul Pierce said to go ask Rondo; Rondo didn't address the media Wednesday. You dig?
Let's start with Garnett, who bluntly declared after Wednesday's win over the Indiana Pacers that Rondo is playing through pain.
"Rondo's playing hurt," said Garnett. "He's giving us everything he has and he's grinding. I think the nights where he's playing countless minutes for us, and he's not playing washed up guys. He's playing [Indiana's Darren Collison] and [New Jersey's Deron Williams] and all these guys and they're coming at him. He knows that, so he's just a little focused in. But everybody's banged up at this point and [Rondo] is no different from that."
Rivers suggested before Wednesday's game that Rondo was "just not playing well," and said he'd work his way out of it. Rivers has praised Rondo's play in recent games -- despite stat lines that are less eye-catching than we've been accustomed to this season -- and, while making his weekly appearance on Boston sports radio WEEI (850 AM) reiterated that there's no mystery ailment here.
"No, he's fine, nothing's wrong," said Rivers. "He hasn't been playing well. He's starting to play well. He played pretty well [versus Indiana]. I thought he did the things he needed to do. You go through that. It just happens during the season.
"He's going to work himself out of it, but you've just got to do it. I always tell him, 'No one's going to feel sorry for any of us.' It's just something you go through and you have to work yourself through it."
Asked if Garnett was wrong for saying that Rondo was not healthy, Rivers said, "Yeah, he is."