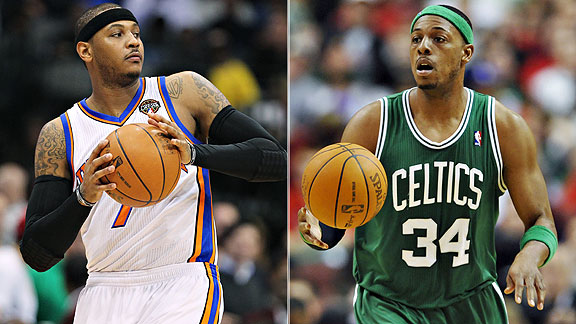 US Presswire

Stat sheets may favor Carmelo Anthony, but Paul Pierce's intangibles may give him an edge.

Who's the better small forward: Paul Pierce or Monday's foe, the Knicks' Carmelo Anthony? ESPN Insider breaks down the matchup:
--WHO'S BETTER: PIERCE OR ANTHONY

--
There is nothing quite like a New York-Boston rivalry. Allow us to add yet another page to the storied feud. While the New York Knicks are assembling a team they hope will contend for titles for years to come, the Boston Celtics look to claim one more trophy with one of the best groups they've ever had. The linchpins to both efforts are a pair of sweet-shooting, 6-foot-8 small forwards. Carmelo Anthony arrived in Gotham riding a wave of possibility, spreading hope throughout the boroughs. Paul Pierce has punched his ticket for Springfield thanks to a career that has become the annual key to Boston's title hopes. Pierce's résumé is long enough to wallpaper Anthony's new Manhattan condo. But does Melo have enough game to prove he's better?
ESPN the Magazine's Chris Palmer breaks the matchup down in four categories, with Pierce earning advantages in secret skill (off-balance shooting) and intangibles (motivation). But the overall winner? For the second straight week, Boston fans are sure to disagree.