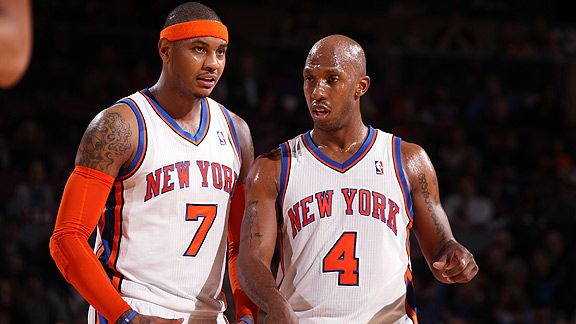 Nathaniel S. Butler/NBAE/Getty Images
Carmelo Anthony and Chauncey Billups highlight the new-look Knicks.The last time the Boston Celtics and New York Knicks squared off on Dec. 15, the two teams produced a thrilling, down-to-the-wire, defense-free affair capped by Paul Pierce's winning jumper (and ensuing home run trot on the Madison Square Garden floor) with 0.4 seconds remaining in the visitors' 118-116 triumph.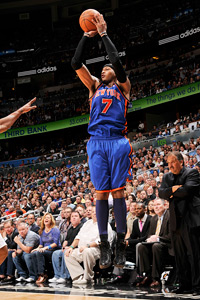 Fernando Medina/NBAE/Getty Images
Carmelo Anthony and the Knicks have had some growing pains.And while the game itself was exciting, it has to be thrown out the window, because the happenings and result of that game mean very little now, considering the moves both teams made at the trade deadline. Gone from the Knicks are Raymond Felton, Wilson Chandler, Danilo Gallinari, and Timofey Mozgov, who were all shipped to the Denver Nuggets in exchange for Carmelo Anthony, Chauncey Billups, Anthony Carter, old friend Shelden Williams, and Renaldo Balkman. New York also re-acquired forward Jared Jeffries via free agency.
The pairing of Anthony and Stoudemire gives the Knicks one of the most dynamic offensive 1-2 punches in the NBA, and it shouldn't come as much of a shock that New York's offense has been superb since they acquired Anthony. In the 14 games Anthony has played in as a member of the Knicks, New York has averaged 111.6 points per 100 possessions -- a figure which would lead the whole league if maintained (currently, Anthony's former team, the Nuggets, are the league's most efficient offensive team, averaging 109.9 points per 100 possessions, according to HoopData). New York's offense is likely to challenge the Celtics' defense more than any other team that Boston have faced since they made their own roster shuffle a little over three weeks ago, beginning with the acquisitions of Jeff Green and Nenad Krstic.
The Knicks are still lacking in one pivotal area, however: Defense. Celtics fans have come to understand the importance of an elite team defense the past four seasons, and the Knicks have yet to develop anything close to that. New York coach Mike D'Antoni has never been recognized for his defensive schemes, and it shouldn't come as much of a shock that his team wasn't terrific defensively before they traded for Anthony. The addition of the former Syracuse star hasn't changed a whole lot in that department, either.
Since they traded for Anthony, the Knicks have allowed 108.8 points per 100 possessions, a figure that would rank 28th in the NBA if maintained. To put things in perspective, elite defensive teams, such as the Bulls and Celtics, are allowing just 96.9 and 97.5 points per 100 possessions, respectively. Whether that defensive figure holds up for the Celtics when these two teams clash on Monday night will be something to keep an eye on.
Monday's matchup will not only mark the first time the Celtics see Anthony in a New York jersey, but also the first time they've seen him all season. Anthony was still a member of the Nuggets when they played in Boston back on Dec. 8, 2010, but Anthony sat out that game with a right knee injury. Anthony is more than capable of filling it up through the opening three frames, but he's also one of the best closers in the NBA, and if the score stays tight down the stretch on Monday, the Knicks now have their go-to scorer. Look for Boston to counter Anthony with Paul Pierce on the defensive end, as well as Jeff Green as the game progresses.
The inevitable Green-Anthony matchup will be of particular interest since, no matter what his defensive reputation was when he arrived in Boston, the Celtics plan on using Green to combat opposing small forwards, particularly the elite scoring ones like Anthony and LeBron James. In the 12 games the Celtics have played with Green in the lineup, they haven't gone up against a team with a top-notch swingman. While Green hasn't had much of a warm-up in this area since being in Boston, he possesses all of the physical tools to be a solid defender against other small forwards.
Another key bench player for the Celtics on Monday will be Delonte West, who will have the task of defending the Knicks' Toney Douglas, who's become a very capable backup point guard for New York. Douglas boasts a season average of 10.2 points, but he's shooting 37.9 percent from 3-point nation. Douglas has scored at least 17 points in four of his last five games, including a 29-point effort against the Grizzlies on March 17, in which he hit 9-of-12 3-pointers. West still serves as one of Boston's best perimeter defenders, and him helping limit the Knicks' bench production will certainly go a long way towards Boston securing a victory.
Attention needs to be paid when these two made-over teams meet on Monday night, seeing as their current respective positions within the Eastern Conference could propel them towards a first-round playoff matchup. The Celtics are currently deadlocked with the Chicago Bulls for the top spot in the conference, while the Knicks and Philadelphia 76ers are vying for the No. 6 seed. Depending on how things play out the rest of the season, there is a very realistic chance that Boston and New York could finish second and seventh in the East, respectively, which would put them on a direct collision course for a first-round dance.
Greg Payne is a student intern for ESPNBoston.com