Hot Button: Who gets the top seed?
March, 22, 2011
3/22/11
7:09
PM ET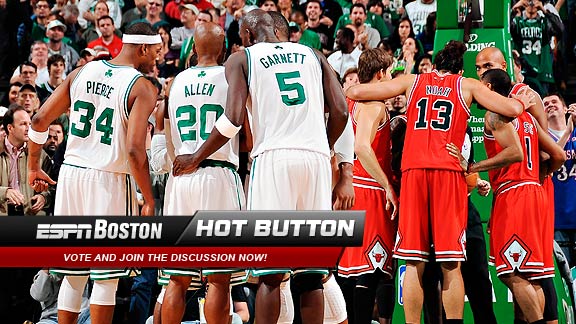 Steve Babineau/Getty ImagesQuick huddle up: Who's going to emerge as the No. 1 seed in the East?
Which team has the best chance of capturing the top seed in the East? ESPN Boston and ESPN Chicago made the argument for each city, now you be the judge in this week's
Hot Button poll
. Check out a sampling of the arguments for both sides below:
--
FRIEDELL: BULLS' YOUTH AND DESIRE WILL WIN TOP SEED
--
The Chicago Bulls have the inside track on the No. 1 seed in the Eastern Conference playoffs because of their youth. Boston Celtics coach Doc Rivers has already said he won't push his veterans over their minutes limit down the stretch in the regular season just to pick up a better seed.
--
FORSBERG: C'S WON'T LET HOME COURT SLIP AWAY THIS TIME
--
From the very moment the Boston Celtics walked off the confetti-strewn court at the Staples Center, where the rival Los Angeles Lakers were celebrating a second consecutive world title last June, coach Doc Rivers and his charges told anyone that would listen how different the ending would have been had Game 7 of the NBA Finals been played in Boston.
Click
HERE
to vote in this week's Hot Button poll.
PODCASTS
Adam Schefter, NFL
Play Podcast ESPN NFL Insider Adam Schefter weighs in on the Panthers' WR situation, Julian Edelman's future with the Patriots, Vince Wilfork's decision to ask for his release and more.
Spanning the Globe: 3/13
Play Podcast "Spanning the Globe" features ESPN Boston's Mike Reiss, Yahoo! Sports' Eric Edholm and ESPN LA 710's Mark Willard.
John Farrell, Red Sox
Play Podcast Red Sox manager John Farrell talks about whether he expected his team to make such a turnaround in one season, his relationship with his players, fans' expectations for the squad and more.