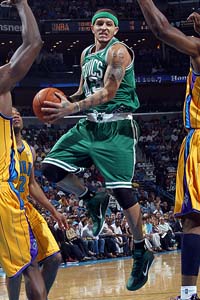 Layne Murdoch/NBAE/Getty
Delonte West has quietly provided a steady bench presence since returning from an ankle injury.WALTHAM, Mass. -- It was the usual scene following the Celtics' practice Thursday at the Sports Authority Training Center at HealthPoint: While the majority of his teammates left the practice floor to hit the weight room or engage in mandatory interviews, Delonte West remained on the floor, going through a post-practice shooting drill with assistant coaches Armond Hill and Roy Rogers. With a ball boy rebounding the continuous made baskets, and the coaches firing the passes, West worked his way around the perimeter, rifling off shots, first in front of the 3-point arc, and then behind it, before concluding the drill with a round of free throws.
But every once in a while, after firing another shot at the rim, West would lightly shake his surgically repaired right wrist that caused him to miss 39 consecutive games, or lift up his right leg for a brief second -- the same leg with a chipped bone in the ankle that kept West out of action for nearly half of the month of March. West's body isn't perfect right now. In fact, he freely admits he won't be 100 percent at any point this season, but he's determined not to let that stop him from suiting up and serving as one of the most important pieces of the Celtics' second unit.
West returned to the lineup on March 16 in a home victory over the Indiana Pacers, and has played in five consecutive games overall, which actually ties a season-high for the injury-stricken guard. While it would appear the worst of his ankle woes are behind him, he admitted he still suffers from random bouts of swelling from time-to-time.
"I feel OK," said West. "Of course it's great to be back on the floor, but my health is not at 100 percent. This ankle keeps swelling up on me. That's because of the chip in the bone. I'll be doing good for about two days and then out of nowhere it'll just swell up on its own, so I'm not 100 percent out there, but once you're out there, there's no excuses. It's not an excuse, but, yeah, it feels great being back."
The hardest part for West has been finding the confidence to play the way he likes to play: With a self-acknowledged sense of reckless abandon. While such an approach is certainly valued, and arguably not seen enough throughout the NBA, it can also increase the chance of further injury. Climbing over that mental hurdle has been a challenge for West, but he says he's getting there.
"It's frustrating because of how I play with a reckless abandon sometimes, and I like to get in there and jump in with the big guys, and for a little guy, they're exciting plays, but I'm not getting to the line because I'm nervous I'm going in there," said West. "But I see myself more and more trying to get on in there. I've picked up a few charges in the last couple games, and I guess that's a bad offensive play, but for me, each time it's like, 'OK, I'm getting closer and closer to the rim, feeling a little more contact, hit the ground a few times the last couple games.'"
Indeed, West has so far done his best to bottle his usual aggressiveness. In that first game back against the Pacers, with 5:26 remaining in the game, Indiana's Paul George looked like he would have an easy dunk after accepting a hand-off from center Roy Hibbert along the left baseline. But West was monitoring the situation from just below the foul line, and as soon as George received the ball, West scrambled to the hoop, leaped off the floor, and slammed the ball out of George's right palm with his left hand. The force of the devastating block caused the ball to ricochet off the backboard and soar all the way out to the free throw line.
Against the New York Knicks on Monday, with his team down nine, West anticipated a short Toney Douglas pass to Jared Jeffries, tipped it out, and corralled the ball before being tripped and crashing hard to the floor (landing on his injured wrist). A clear-path foul was called, and West converted one of two free throws, which was part of a crucial 5-0 run to the end the frame that gave the Celtics a workable six-point deficit heading into the fourth quarter. And while West isn't in any hurry to suffer more injuries, he maintained that those types of falls can actually inspire confidence as he continues to shake off the effects of his various maladies.
"That helps, just kind of getting your confidence back on that contact," said West. "It's a physical game and a little slight thing on your brain has got you shying away from contact, and that's not my game, so I'm trying to get that back."
West still receives heavy treatment on both his ankle and wrist, staying in the trainer's room after practice for as long as an hour at a time. But it's a necessary part of the recovery process that helps keep West on the court, where he's looking forward to re-igniting all the portions of his game that have made him a very valuable commodity for all of the teams he's played for throughout his career.
"That's all I can do," West said of getting treatment. "Ice, [stimulation]. [Celtics trainer] Ed Lacerte and Dr. [Brian] McKeon and his staff have been doing a great job with the wrist and ankle, trying to keep it in a position where I can play."
"I'm excited because there's a lot of things I know I can do on the floor that I haven't been able to do yet."
Even with all of the promising things West has done, and will continue to do, for Boston's second unit, his season so far has unfortunately been defined by the number of games he's missed due to injuries, as well as a league-mandated 10-game suspension to start the season. But even missing 57 of 70 games can't keep West from viewing things with a twist of optimism.
"This year's definitely been a tough one for me," West said. "But what [doesn't] kill you makes you stronger, right?"
Greg Payne is a student intern for ESPNBoston.com