As part of his Weekend Dime, ESPN.com's Marc Stein recently sneaked in five questions with Celtics center Shaquille O'Neal: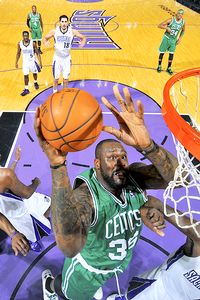 Noel Vasquez/Getty Images
Despite a cortisone shot earlier this week, Shaq is still expected back by April 1.
Q: How much do you look forward to the opportunity to go up against guys like Dwight Howard or Andrew Bynum in the playoffs?

A: Excuse me? Don't ask me a question like that.

Q: But that's what people want to know. Those guys are playing so well and everyone wants to see if you can match up with them one-on-one.

A: First of all, they won't dare play me one-on-one, even at the tender age of 39. And you know what? Playin' those teams, it ain't gonna be about the [center] matchup, so I don't really worry about that.

Q: So there's not more pressure on you now because the Celtics traded Kendrick Perkins away?

A: No. Because I've just got to rebound and play good defense. And I can do that. If I was getting the ball and taking all the shots, it'd be a lot of pressure at 39. But I've just got to rebound and play D.

Q: However you feel health-wise right now, you're convinced that you're going to be healthy enough to be a factor in the playoffs?

A: Yeah. Gotta be.

Q: How much thought have you given to playing beyond this season? Is there a chance that this is the last season for you?

A: I don't know yet. Probably not.