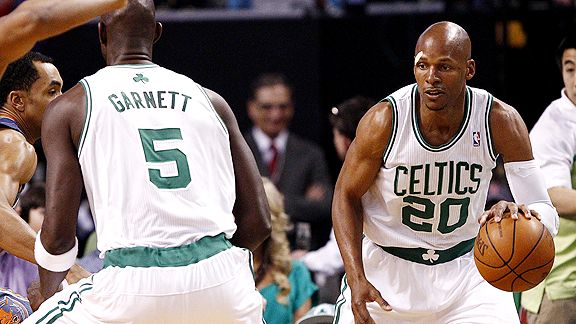 Mark L. Baer/US Presswire
Ray Allen scored 14 points, but none in the second half.BOSTON -- Rapid reaction after the Charlotte Bobcats defeated the Boston Celtics 83-81 Friday night at TD Garden:


HOW THE GAME WAS WON
DJ White scored a team-high 17 points off the Charlotte bench, while Gerald Henderson chipped in 15 more as the Bobcats overcame a 13-point fourth-quarter deficit to absolutely stun the Celtics. Paul Pierce scored a team-high 18 points, but both Ray Allen (14 points) and Kevin Garnett (12 points, 9 rebounds) missed 3-pointers in the closing seconds with Boston trying to win the game on its final possession.
TURNING POINT
The Bobcats clawed within five with little more than three minutes to play in the third quarter, but Boston closed out the frame on an 8-0 burst, highlighted by six straight points from Glen Davis. Rajon Rondo's end-to-end dash for a last-second layup put Boston up 66-53 heading to the final quarter and that should have been enough in an offensively anemic game, but...
Charlotte embarked on a 16-0 run to erase an 11-point deficit and pull ahead, 80-75, with 2:48 to go. That forced Boston to rally back, but Dante Cunningham's wide-open 13-foot jumper after a Pierce fly-by gave the Bobcats an 82-81 lead with 33.9 seconds to go and proved to be the winner.
STAT OF THE GAME
The Celtics connected on a mere 6-of-19 shots (31.6 percent) in the fourth quarter and were doubled up in points by the Bobcats, 30-15.
UNSUNG HERO
Cunningham not only provided the winning jumper, but he scrambled for a monster block on Garnett in the final minutes, preventing a bucket that could have helped Boston escape with this win.
WHAT IT MEANS
Zzzzzzzzz... Oh, hey, didn't see you there. This one was snooze-worthy for the first 3½ quarters and only got interesting when the Celtics fumbled away the big fourth-quarter lead as the Bobcats surged ahead late. Fans rained down with jeers in the fourth quarter, then stomped to the exits after perhaps the most lackluster performance by Boston this season (and bringing back foul memories from last season's Garden snoozers). Yet again, the Celtics' offense sputtered and, despite building a rare early cushion, Boston let this one slip away in the final 12 when the starters should have been laughing it up to Gino.