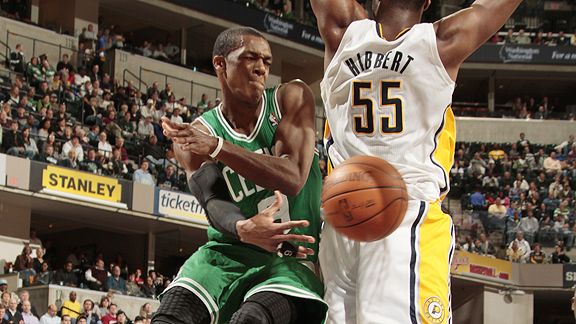 Ron Hoskins/NBAE/Getty Images
No-look pass: Rajon Rondo provided Boston with a spark, but it wasn't enough.First impressions after the Indiana Pacers defeated the Boston Celtics 107-100 Monday night at Conseco Fieldhouse in Indianapolis:


HOW THE GAME WAS WON
Roy Hibbert converted 12-of-17 shots for a game-high 26 points, while Danny Granger (18 points) and Darren Collison (17) helped spark an Indiana offense that shot 54.5 percent (42-of-77). Paul Pierce scored a team-high 23 points, while Rajon Rondo added 22 points and eight assists after a one-game absence to pace Boston.
TURNING POINT
The Celtics carried a four-point lead into the fourth quarter, but Indiana quickly rallied ahead. With the game knotted at 94, the Pacers stepped up at both ends of the court as part of a key 8-0 run. Collision drilled a 16-foot jumper and Hibbert blocked Pierce's layup at the other end. After Brandon Rush made a layup, Collison picked Rondo's pocket near midcourt following a sloppy pass from Garnett and streaked in for a fastbreak dunk and a 100-94 advantage with 4:35 to go. Garnett missed two freebies that could have stopped the bleeding and Hibbert added a second-chance bucket to push the lead to eight.
STAT OF THE GAME
This is a tough one for Boston to swallow. Not only did the Celtics shoot 54.8 percent (34-of-62), but they took 36 free throws and reached triple digits for the first time in ages. Yet it still wasn't enough as Boston's defense disappeared on the second night of a back-to-back.
UNSUNG HERO
The Pacers got 15 points from A.J. Price off their bench, highlighting an effort in which Indiana reserves combined to outscore Boston's second unit, 41-31. Considering how Jeff Green sparked Boston in a meeting earlier this month, the Pacers' reserves returned the favor on their home turf. Green chipped in eight points, but only converted one of three shots, doing much of his damage at the charity stripe.
WHAT IT MEANS
Another night that started with so much promise -- Jermaine O'Neal rejoined the team and expressed hopes of playing soon, while Rondo talked his way into the starting lineup and made all five first-quarter shots he put up -- ended with Boston falling apart at the seams, looking nothing like the poised team that we've come to expect late in games (well, before this recent funk anyway). Boston's body language was as atrocious as its play and the Pacers did enough to pull away and stay away. Two days off loom for the Celtics, which is good for a heavy-legged squad, but Boston also must sit on this effort for 48 hours before a visit to San Antonio to kick off another back-to-back with the Spurs and Hawks.