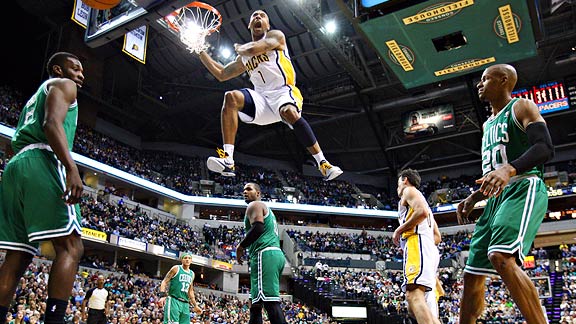 AP Photo/Michael Conroy
The Celtics lost for the seventh time in 12 tries Monday in Indiana.The Celtics' regular-season spiral looks a lot like it did last year, but don't be fooled -- this is far different, and not in a good way, writes Peter May:
--MAY: CELTICS SLIDE WASN'T PART OF THE PLAN--
The Celtics' winning percentage has dropped every month since the turn of the year, replicating last season's underwhelming 27-27 finish. Their loss to Indiana on Monday was their third in four games and kept them two games astern of Chicago -- and tied with Miami -- in the Eastern Conference. Not all that long ago, they held decent leads over both teams. The Celtics are 8-7 in March with Thursday night's game against equally reeling San Antonio to close out the month. Boston is a mere 10-8 since it sent Kendrick Perkins packing and imploded its bench. The Celtics are 15-11 since blowing out the Lakers in the fourth quarter at the Staples Center on Jan. 30. Something is amiss and, unlike last season, it's not as readily apparent.