Celtics center Jermaine O'Neal could return to the Celtics' lineup as soon as Thursday when they take on the San Antonio Spurs, after missing the last 36 games following left knee surgery.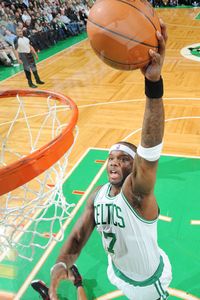 Brian Babineau/NBAE/Getty
What can Jermaine O'Neal provide? Rebounding and shot blocking to start.O'Neal's return will be welcomed by a Boston club that's thin up front due to injuries to Shaquille O'Neal and Troy Murphy. And while he may help in specific areas, O'Neal should not be expected to solve all of the Celtics' recent struggles.
It's tough to raise expectations too high for O'Neal, who has played in only 17 games this season and is coming off knee surgery, but he did show earlier in the season when he was playing through knee pain that he could impact the defensive end and the boards -- two areas where the Celtics could use some help right now.
In the 17 games he played this season, O'Neal averaged a defensive rebounding rate of 17.5 percent, according to HoopData, which is just below the league average for centers this season at 19.3 percent. But O'Neal posted that figure on a balky left knee, and, assuming he'll return to the court stronger than he was before the surgery, he could raise that figure back to the league average, or possibly even higher.
To put O'Neal's defensive rebounding numbers in perspective, of all of Boston's current front-line players, he ranks fourth in defensive rebounding rate behind only Kevin Garnett (28.8 percent) Troy Murphy (20.3 percent since joining the Celtics) and Shaquille O'Neal (20.1 percent). He comes in ahead of Glen Davis (16.9 percent), Nenad Krstic (16.3 percent since joining the Celtics), and Paul Pierce (16 percent). When O'Neal returns, he'll be giving the Celtics another credible rebounding threat off the bench -- something coach Doc Rivers certainly won't complain about having in his arsenal.
While O'Neal's rebounding was one of his most noticeable areas of impact, it became clear as the season progressed that he had a knack for playing very solid help defense. His rotations on defense routinely seemed on point -- an area Krstic in particular has struggled in. O'Neal still leads the Celtics in blocks per game with an average of 1.24 (ahead of Garnett and Shaquille O'Neal), but, more importantly, leads the team in block percentage -- a figure that estimates the percentage of opponent two-point field goal attempts a player blocks. O'Neal's block percentage currently sits at 5.4, which ranks him higher than Garnett (2.1 percent) and Shaq (4.4 percent).
O'Neal's rebounding and block statistics need to be taken in stride, of course, seeing as the sample size is limited. But at the very least, they shed some light on the type of impact O'Neal is capable of making.
O'Neal's offense isn't as important as his defense. While he's still capable of knocking down elbow jump shots and stretching the defense to an extent, he'll probably be best served trying to clean up misses around the basket or finishing easy buckets off of passes from penetrators like Rajon Rondo and Pierce. The Celtics most likely won't be running any offense through O'Neal, unless forced to resort to the third or fourth option.
For the immediate future, O'Neal gives the Celtics another 7-footer, and, much like quality pitchers in baseball, a basketball team can never have enough big men. The Celtics saw firsthand what a lack of big men can result in during their 107-100 loss to the Pacers on Monday. The 7-foot-2 Roy Hibbert had a field day with Garnett and Krstic on the bench in foul trouble. Going up against the shorter Glen Davis for much of the evening, Hibbert went off for 26 points on 12-of-17 shooting.
While there are no guarantees O'Neal would have completely shut down Hibbert, his added length would have at least made things more difficult for the Indiana center.
The Celtics are hoping that can be said for all opposing centers once O'Neal returns to the floor.
Greg Payne is a student intern for ESPNBoston.com