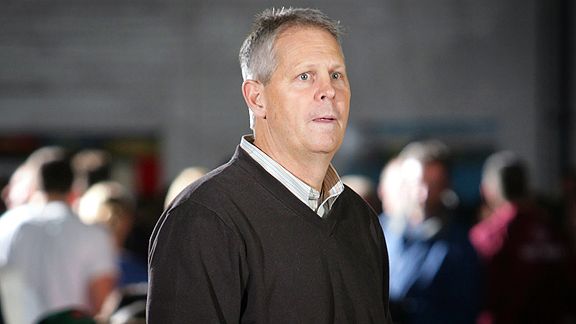 Rich Obrey/NBAE/Getty Images
Mad at Danny Ainge for the Kendrick Perkinst radeDanny Ainge has done great things for the Celtics, but his front-office legacy could depend on the final result of the Kendrick Perkins trade writes ESPN Boston's Jackie MacMullan:
--MacMULLAN: GOING BOLD NOTHING NEW FOR AINGE--
There was a time when Celtics president of basketball operations Danny Ainge was roundly booed by Boston fans -- in the middle of a ceremony to honor his former teammate Cedric Maxwell. Five years later, after he delivered a championship, he was toasted by those same fans as the boldest general manager in the game.

In between, Ainge traded 35 players and 11 draft picks.

He sent Antoine Walker packing in 2003, then reacquired him in 2005, neither of which seemed like a particularly good idea at the time. He traded for such immortals as Raef LaFrentz, Ricky Davis, Jiri Welsch and Chris Mihm, yet eventually parlayed them into new players and more draft picks that helped the Celtics win.

"He runs his basketball team the same way he used to play -- he lets it fly,'' asserts Indiana Pacers president Larry Bird.