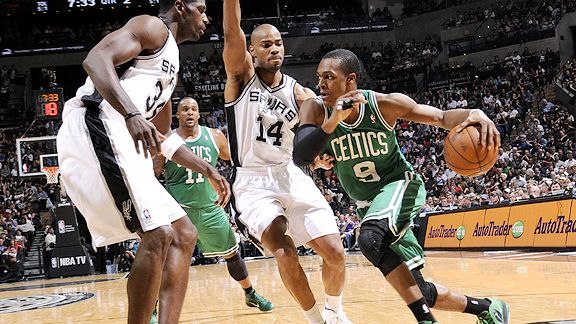 D. Clarke Evans/NBAE/Getty Images
Rajon Rondo took over Thursday's game for the Celtics.Doc Rivers called it "coach's porn," but whatever you call it, superior ball movement, sparked by Rajon Rondo, gave the Celtics an inspiring win over the Spurs:
--RONDO GETS THE CELTICS MOVING VS. SPURS--
If Boston's offense was in a funk, it broke out in a big way Thursday night in San Antonio. The Celtics shot a blistering 61.9 percent in the second half, connecting on 26 of 42 shots while racing away for a 107-97 triumph over the Spurs. "Hell, I'm going to say it, and I probably shouldn't, but [the players know], I call it coach's porn," joked Rivers, the insinuation that nothing gets a hoops coach more excited than seeing fundamental ball movement leading to open looks.