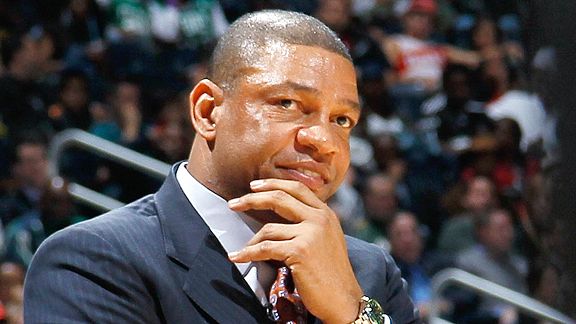 Kevin C. Cox/Getty Images
Doc Rivers has plenty to keep his eye on over the final seven games.The still-limping Celtics aren't going to have it easy down the stretch. ESPN Boston student intern Greg Payne looks at what to watch for as the Green close out the regular season:
--PLENTY TO WATCH BEFORE PLAYOFFS ARRIVE--
The Boston Celtics' quest for the No. 1 overall seed in the Eastern Conference might have officially come to an end on Friday night with their 88-83 loss to the Atlanta Hawks and the Chicago Bulls' 101-96 victory over the Detroit Pistons. With the loss, the Celtics actually slid back into third place behind the Miami Heat, which defeated the Minnesota Timberwolves 111-92 on Friday. The Celtics now sit a full three games behind the Bulls in the standings and a half game behind Miami with seven games remaining in the regular season. The Celtics and Bulls will square off one final time in Chicago on Thursday, but even if they manage to win that game, they'll still have a tough time making up ground with limited time left on the schedule. But there's still a host of things the Celtics can accomplish with 12 days to go.
Topics examined include staying healthy, locking up the No. 2 seed, getting the O'Neals ready, and more.