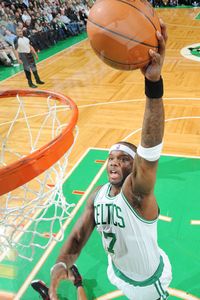 Brian Babineau/NBAE/Getty
Jermaine O'Neal continues to make steady progress in his return from knee surgery.BOSTON -- With Nenad Krstic sitting out of Friday's 88-83 loss to the Atlanta Hawks with a right bone bruise, Celtics coach Doc Rivers elected to start Glen Davis at center, and Jermaine O'Neal assumed the same would hold true for Sunday's home tilt against the Pistons.
But mere hours before tipoff, O'Neal got word that he'd garner the start in the middle on Sunday in just his third game back following a 36-game layoff because of left knee surgery. O'Neal played in both games of the Celtics' back-to-back stretch last Thursday and Friday, and after some encouraging play and (more importantly) no physical setbacks, Rivers deemed it safe to give O'Neal the start and keep Davis in his more customary, and preferable, bench role.
"I never like starting [Davis]," Rivers said prior to Sunday's 101-90 victory over the Pistons. "I just think he's better with that second unit, so that's why we're throwing J.O. in there."
O'Neal was the first Celtic introduced to the TD Garden crowd in the starting lineup announcements and was greeted by a thunderous ovation. He followed it up with an 18-minute effort in which he registered five points on 2-of-2 shooting and six rebounds.
"It felt good, it felt good to be back," O'Neal said. "Again, it's just going to be about progression. Today was probably the first day that I felt sore coming into the game, and I didn't even know I was going to start until the shootaround. But we got into the weight room, did some leg stuff, got loose, and that's kind of the process.
"[Monday] will be good to get a practice in, to get acquainted with the new system. They changed some plays, so I'm kind of learning on the fly and asking [Rajon] Rondo at the same time during the game where I was supposed to be. But all-in-all it was a little bit better today than it was in the Atlanta game."
In his first two games back, O'Neal was on a strict minute limit, playing only 11 minutes against the Spurs on Thursday and 16 against the Hawks on Friday. Rivers said he planned to keep O'Neal in the 15-20 minute range on Sunday, and he could do so with more freedom, with Shaquille O'Neal set to make his return to the lineup following a 27-game absence of his own.
But things didn't go according to plan when Shaq left the game a minute into the second quarter with what the Celtics called a right calf strain. As Shaq hobbled off the court, Jermaine sprang up off the bench to check back in, at a time when he was scheduled to get a break in his minutes.
"It was good," Rivers said of O'Neal's first start since the surgery. "The problem was when Shaq went down, then we had to bring Jermaine [back in], and he was already at his minute [limit] that I wanted to play him, literally coming out at halftime, so that's why I only played him four minutes [in the third quarter]. It's killing your rotations. Any rotations right now that we even think about having, you're just throwing them out of the window because stuff is happening."
As a result of the unforeseen minute adjustment, O'Neal sat out the entire fourth quarter. Nevertheless, it was a step in O'Neal's recovery as he seeks to make an impact for a Celtics team fighting for one of the top seeds in the Eastern Conference.
"At this point it's just good to get anybody back who's been off with [an] injury," Paul Pierce said. "Everything is a plus, especially at the big spot because that's where we've been having a lot of our injuries throughout the year. Just having [O'Neal] out there, offensively, and defensively, is huge."
Added Kevin Garnett: "[O'Neal's] confident and that's what we want. I just told him to stay aggressive. I think everybody's promoting him to continue to go out and do the things we know he can do, and he's doing it."