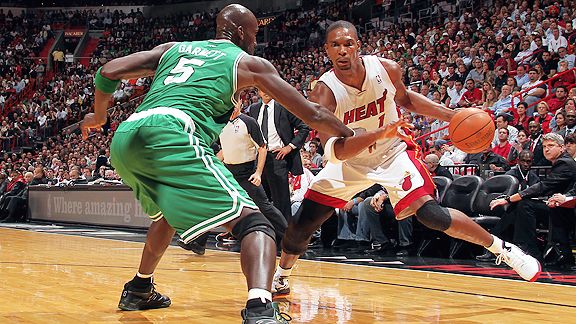 Victor Baldizon/NBAE/Getty Images
It's essentially a two-horse race between the Celtics and Heat for the No. 2 seed in the East.With the No. 1 seed all but locked up by the Chicago Bulls, John Hollinger examines the race between Boston and Miami for the No. 2 seed:
--HOLLINGER: THE RACE FOR No. 2 IN THE EAST

--
We were duped by Boston's second-half struggles a year ago, so we'll grab a few salt packets with this information, but the league's long-term history bears repeating: Coasting into the postseason hoping to "flip the switch" is a poor formula for playoff success.

Still, both Miami and Boston have a card left in their pockets that the Bulls do not: For both, the redistribution of playoff minutes from scrubs to starters should make them more potent foes than in the regular season. In Miami's case, this is abundantly obvious, as the Heat's top-heavy roster has been one of the season's most heavily discussed phenomena.

Boston? Arguably, the Celtics could benefit nearly as much. Consider this chart from basketballvalue.com. What you're seeing is Boston's plus-minus with various units on the court. At the top, notice that their most common units feature their four All-Stars with any warm-bodied big man; you'll see that regardless of whether it's Glen Davis, Nenad Krstic, Jeff Green, Jermaine O'Neal, Shaquille O'Neal or Ed O'Neill, the Celtics dramatically outscore the opposition with that group. Meanwhile, some commonly used Boston regular-season units that were trampled -- like "Robinson-Wafer-Daniels-Davis-Erden", for instance -- won't be seeing daylight this postseason.

All of which offers reasons for optimism for fans of each. Yet the big-picture takeaway from the Eastern Conference regular season is that both clubs may have too many fundamental flaws to beat the likes of the Bulls and Lakers in the postseason.