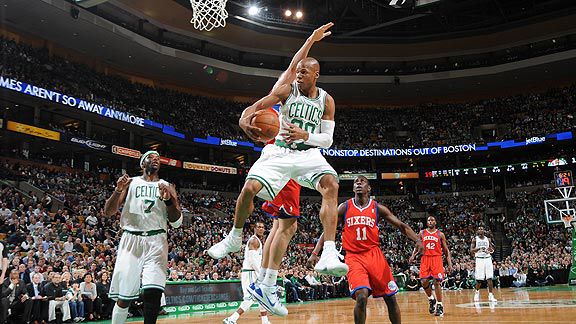 Brian Babineau/NBAE/Getty Images
Ray Allen prepares to deliver a pretty dish to Jermaine O'Neal in the first half.BOSTON -- Rapid reaction after the Boston Celtics defeated the Philadelphia 76ers 99-82 Tuesday night at the TD Garden:


HOW THE GAME WAS WON
Paul Pierce scored a team-high 18 points on 6-of-11 shooting with a trio of 3-pointers, while Rajon Rondo added 16 points and 13 assists as the offensive catalyst. Kevin Garnett got early touches and chipped in 14 points over a mere 24 minutes, while Ray Allen added 13 points on 5-of-7 shooting over a team-high 35 minutes.
TURNING POINT
The Celtics scored the first nine points after intermission, stretching a four-point halftime lead to double digits and forcing the 76ers to call an early timeout trying to stem the momentum. Garnett made a pair of jumpers (off feeds from Pierce), while Allen and Jermaine O'Neal combined for a trio as the lead quickly ballooned to 11. After a Philadelphia timeout, Garnett canned another jumper for a 63-50 lead. The 76ers wouldn't score until nearly midway through the frame when Elton Brand hit a baseline jumper with 6:19 to go, ending an 0-for-7 start to the half ... Boston tried its best to fumble away the lead, missing its next eight shots as the 76ers rallied back, but three hoops in 64 seconds pushed the lead back up to 10 with 2:10 to play and the Celtics kept Philly at arm's length from there.
STAT OF THE GAME
The Celtics finished with a small advantage on the glass (37-36), spreading out the caroms as Jeff Green and Pierce chipped in seven apiece. They also limited the damage off their turnovers (15 for only seven points).
UNSUNG HERO
In his first game back from a bruised right knee that forced him to sit out the last two games, Nenad Krstic chipped in eight points on 4-of-5 shooting with six rebounds over 18 minutes. Krstic came off the bench for the first time and shined early in the fourth quarter with a unit that included Allen, Green, Delonte West and Glen Davis.
WHAT IT MEANS
In a series that featured three nail-biters, the Celtics had a chance to deliver a knockout blow early, but did have this one on cruise control by early in the fourth quarter. Boston got quality play from its second unit to start the fourth frame, allowing Doc Rivers to limit minutes for starters including Garnett and Jermaine O'Neal, who combined for a mere 36 minutes. The Celtics (54-23) stay in the hunt for a top seed in the East, pulling even with Miami for the No. 2 seed.