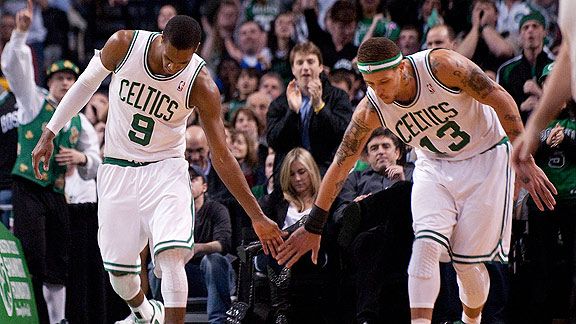 Michael Ivins/US Presswire
Celtics guards Rajon Rondo and Delonte West have reason to celebrate.The Boston Celtics pulled away Tuesday, but their dog fights with the Philadelphia 76ers may foretell an entertaining playoff matchup:
--DAILY DIME: STRONG SECOND HALF SHOWS C'S STRENGTHS--
Just eight points had separated the Boston Celtics and Philadelphia 76ers in their first three bouts of the 2010-11 regular season. Entering Tuesday night's tilt, with the playoff picture slowly coming into focus, whispers swirled around what lined up as a potential preview for the first round of the Eastern Conference playoffs. Would the up-and-down Celtics, still struggling to put their new pieces together since the midseason trade of Kendrick Perkins, be ripe for an upset by the upstart Sixers in a seven-game series? A dominant second half out of the defending Eastern Conference champions quickly quieted any such speculation, as Philadelphia was held to 28.6 percent shooting and just 32 second-half points in a 99-82 Boston win at the TD Garden. "Tonight was a good test for us," Rajon Rondo said. "That might be a first-round opponent, and we did a good job of making a little statement, as far as them knowing it's going to be tough to beat us in a seven-game series."
--MAY: CELTICS-SIXERS COULD SPARK OLD FIRE--
It's an article of faith in the NBA that the playoffs are really, really, really different from the regular season. They are. You play the same team at least four games in a row. There is limited travel. There are no back-to-backs. Someone wins and moves on. But there are times when regular-season meetings between teams offer a true harbinger of what might transpire should those same two teams meet in the playoffs. All those Boston-Philly series in the 1980s? They mirrored the games of the regular season, which were always wars.