5-on-5: The 411 on Celtics, Bulls
April, 7, 2011
4/07/11
12:03
PM ET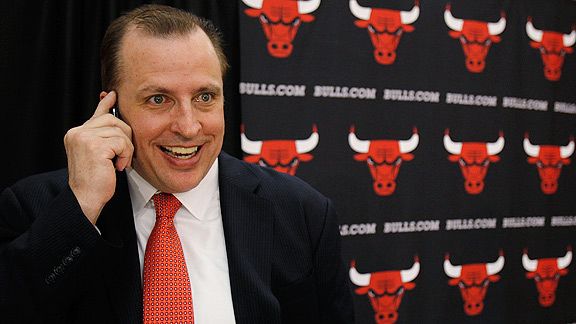 Jonathan Daniel/Getty ImagesBulls coach Tom Thibodeau has reason to be excited about his team.
Five writers break down the
top five questions surrounding Thursday's Celtics-Bulls clash
, using 160 characters or fewer, including question No.1: Who has the better Big Four?


Zach Harper, Daily Dime Live
: CHI has the best Big 1 but BOS has the next-best 4 guys after him. Not that the Bulls' guys don't play their roles, but C's 4 play their roles better.
Matt Moore, Hardwood Paroxysm
: Depends. Are we talking star power? BOS by a hair. CHI strong but not enough. Are we talking chem? Still BOS. Talented, effective, work together. Experienced.
Breene Murphy, ClipperBlog
: Derrick Rose buoys the Bulls, but the Celts have the better Big 4. There's more consistency and versatility with Rondo, Garnett, Pierce and Allen.
Danny Savitzky, Nets Are Scorching
: Boston, even with Rose's go-to offensive ability. Both foursomes thrive on sound team defense, but the Celtics' unit has Finals experience on its side.
Zarar Sidiqqi, Raptors Republic
: BOS. In 2 years it'll be CHI. KG & Rondo's D has edge over Boozer & Rose's O. Pain of losing Finals fuels them more than CHI, who are happy to be good.
PODCASTS
Bill Simmons, NBA
Play Podcast Grantland's Bill Simmons discusses the state of the Lakers, Phil Jackson's future, the perception of Rajon Rondo, Doc Rivers' impact on the Clippers and more.
Baseball Tonight
Play Podcast Buster Olney chats with Jayson Stark about Ken Griffey Jr.'s uncomfortable interview with Linda Cohn and the value of spring training. Plus, Mike DiGiovanna on the Angels and Derrick Goold on Matt Carpenter's negotiations with the Cardinals.
John Farrell, Red Sox
Play Podcast Red Sox manager John Farrell talks about whether he expected his team to make such a turnaround in one season, his relationship with his players, fans' expectations for the squad and more.