5-on-5: The 411 on Celtics, Bulls
April, 7, 2011
4/07/11
12:03
PM ET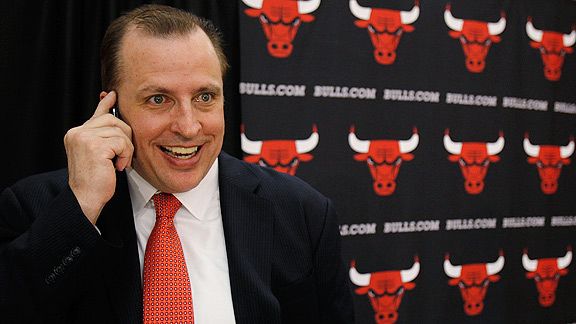 Jonathan Daniel/Getty ImagesBulls coach Tom Thibodeau has reason to be excited about his team.
Five writers break down the
top five questions surrounding Thursday's Celtics-Bulls clash
, using 160 characters or fewer, including question No.1: Who has the better Big Four?


Zach Harper, Daily Dime Live
: CHI has the best Big 1 but BOS has the next-best 4 guys after him. Not that the Bulls' guys don't play their roles, but C's 4 play their roles better.
Matt Moore, Hardwood Paroxysm
: Depends. Are we talking star power? BOS by a hair. CHI strong but not enough. Are we talking chem? Still BOS. Talented, effective, work together. Experienced.
Breene Murphy, ClipperBlog
: Derrick Rose buoys the Bulls, but the Celts have the better Big 4. There's more consistency and versatility with Rondo, Garnett, Pierce and Allen.
Danny Savitzky, Nets Are Scorching
: Boston, even with Rose's go-to offensive ability. Both foursomes thrive on sound team defense, but the Celtics' unit has Finals experience on its side.
Zarar Sidiqqi, Raptors Republic
: BOS. In 2 years it'll be CHI. KG & Rondo's D has edge over Boozer & Rose's O. Pain of losing Finals fuels them more than CHI, who are happy to be good.
PODCASTS
Field Yates, NFL
Play Podcast ESPN NFL reporter Field Yates covers expectations for Rob Gronkowski, the Patriots' outlook, LeSean McCoy's injury and Alex Smith's contract negotiations with the Chiefs.
Baseball Tonight - Jed Hoyer
Play Podcast Buster Olney and Justin Havens discuss how teams that made major deals have fared since the deadline. Plus, Cubs GM Jed Hoyer on the strange circumstances caused by weather.